Liverpool teacher banned for failing to protect vulnerable children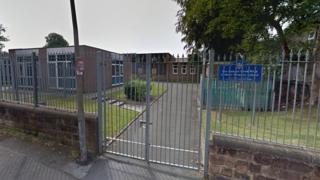 A former head teacher has been banned from teaching for "an abdication of her duty" to protect vulnerable children at a school in Liverpool.
Susan Horncastle, 62, admitted all the allegations against her when she was at Our Lady of Good Help Primary School.
A misconduct panel found she failed to safeguard children, including one who had seen domestic violence.
She had resigned in 2015 after being convicted of neglecting her dog so badly it had to be put down.
Mrs Horncastle had been employed as head teacher at the school since 1997 and was also the designated safeguarding lead at the school.
The National College for Teaching and Leadership panel's report said she had failed to take appropriate action over issues including:
Failing to tell staff a pupil must not be picked up from school by his parents who no longer had parental rights
Failing to act when a child was being disruptive in the dining hall as she "left him with other staff members" to deal with and then did not notify his mother or social services
Failing to take appropriate action when a pupil disclosed she had witnessed domestic violence
Failing to promptly and/or adequately refer issues relating to an injury underneath the eye of a pupil who was known to social services
The report added Mrs Horncastle's actions showed a "pattern of repeated behaviour and serious failings" in relation to her safeguarding duties that "placed pupils at significant risk".
It found Mrs Horncastle's conduct "fell significantly short of the standards expected of the profession" and her "failure to take prompt and effective action could easily have led to even more serious harm".
"As both head teacher and the designated senior person with responsibility for safeguarding Mrs Horncastle's actions were a failure of leadership and an abdication of her duty to protect the well-being of pupils," it said.
She was banned from teaching indefinitely but was told she could apply to have the ban lifted after four years.