Ellia Arathoon murder: Killer who burnt body in suitcase jailed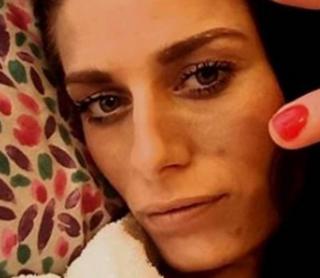 A man who "brutally" murdered a "defenceless" mother before putting her body into a suitcase and setting it on fire has been jailed for life.
Craig Procter, 40, of Shephard Close, Ellesmere Port, pleaded guilty to killing Ellia Arathoon in October 2016.
The court heard Procter told an ex-partner he had killed the 29-year-old five days before police found her remains near the M53 in Cheshire.
He was ordered to serve a minimum of 21 years.
The court heard the pair, who were friends and crack cocaine users, had left a house party and returned to Procter's home early on 29 October.
The 40-year-old later visited his ex-partner Catherine Powell and told her: "We've killed her, just one hit. I hit her with the glass."
'Vivacious, strong-willed, friendly'
The following day, he was captured on CCTV carrying a suitcase towards a canal towpath close to his home, before meeting Ms Powell at nearby Butterfly Woods.
Prosecuting, Richard Pratt QC, said he pointed to the woods and "suddenly said 'that is where she is'".
He said Ms Powell and Procter's mother were not sure whether to believe him, so did not contact police, but had their minds changed when he later told Ms Powell: "I can't believe no-one's seen it. It's Ellia's body, you can see it, I'm going to have to move it."
The court heard the suitcase containing Ms Arathoon's remains had been set on fire, before being moved to an embankment near the motorway and covered with carpet and twigs.
A post-mortem examination found she had bruising to her face, but was not able to determine her cause of death or whether she was still alive when placed in the suitcase.
Evidence showed Procter had had sex with her before her death, which he claimed she agreed to, but the prosecution believed was "non-consensual".
The hearing was also told Procter initially blamed his lodger for what happened and then told police he had seen an unidentified man kill her, before finally admitting his guilt.
Sentencing him, Judge Clement Goldstone QC said Procter had "intentionally, deliberately and brutally killed" Ms Arathoon and "created a situation which prevented her family from identifying her [which] made their grieving process that much more difficult and hard to bear".
In a statement, her mother Elaina Hampson said she was a "beautiful, vivacious, strong-willed, friendly, funny and loving person" who would "light up the room with her smile".