Sex abuse probe into former Bishop of Chester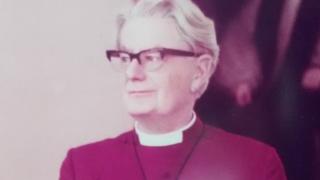 A former bishop would have been questioned over sex abuse allegations had he still been alive, police said.
The force identified 13 adult and child alleged victims - five male and eight female - of the late Bishop of Chester Victor Whitsey between 1974 and 1981.
Its report said two victims were aged 13 to 17 and the alleged abuse was carried out in Chester and Lancashire.
A relative, Rachel Whitsey, told the BBC she had no comment to make. The Church of England has apologised.
Bishop Whitsey, who was married with children, retired in 1981 and died in 1987.
'Heinous behaviour'
Officers found five of the claims were previously reported to members of the clergy, and in one case, a victim reported what happened the day after the alleged abuse took place.
Another said in a statement he was "young, innocent, and naive" when the bishop abused him "sexually and psychologically".
Lawyer Richard Scorer, representing four of the alleged victims, called for an independent review into "who failed to act when they learnt of his heinous behaviour".
The force said three people who made claims "provided only limited information", which would not have been sufficient enough to have spoken to the former bishop.
Its report said the decision to speak to the clergyman, had he been alive, "is not an indication of guilt".
'Shameful breach of trust'
Assistant Chief Constable Nick Bailey added: "Following a thorough investigation... it has been established that, if Bishop Whitsey were alive today, as part of the investigation process he would have been spoken to by police.
"This would have been in order to outline the details of the allegations made and to provide him with an opportunity to offer an account of events."
A joint statement from the Archbishop of York, John Sentamu, and Bishop of Chester, Peter Forster, said they were "deeply sorry" and apologised to "individuals who have come forward to share their account of abuse by a bishop in the Church of England who was in a position of power and authority".
They added: "Sexual abuse is a heinous crime... an absolute and shameful breach of trust."
Bishop Whitsey was a priest in Manchester before becoming suffragan Bishop of Hertford and then Bishop of Chester.
In 1982 the Times described him as "having the reputation of being one of the Church of England's most conservative leaders".