Cheshire East Council worker 'sacked' in wage warning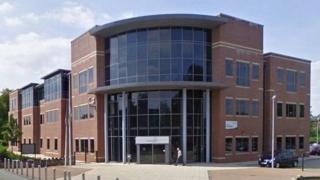 A senior council worker was sacked by telephone after raising concerns that dozens of care workers were being underpaid, a tribunal has heard.
Sue Wallace, of Cheshire East Council, wrote a report last year warning staff who worked overnight were paid below the minimum wage.
Ms Wallace claims she was unfairly dismissed after raising concerns with a number of council managers.
The authority accused Ms Wallace of a "council-wide conspiracy theory".
The former senior HR officer told a preliminary hearing at the Manchester Employment Tribunal that she lost her job while on sick leave in December 2016 shortly after submitting her report through the council's whistleblowing process.
Ms Wallace said she did so after "not getting any traction" with other bosses who she warned that the council may have breached wage laws.
'Scattergun allegations'
Carlo Breen, representing the council, said the former HR manager was making "scattergun allegations".
"She is convinced in her own mind that there are lots of people behind this", he told the tribunal.
The hearing was adjourned until June 2018, when a number of senior council managers are due to be called as witnesses, including chief executive Mike Suarez and chief operating officer Peter Bates.
Cheshire East Council announced last month it would award backdated pay increases to dozens of care workers paid below the minimum wage.
Cheshire Police has confirmed it has launched a review of "minimum wage and sleep-in allowance matters" to see if any crimes have been committed.