Teddy Tilston murder accused Craig Smith 'wanted to die'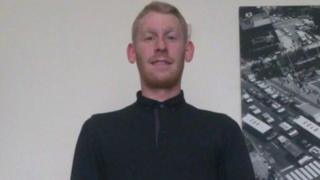 A man accused of murdering his girlfriend's two-year-old son said he wanted to die so he "could not hurt anybody else", a court has heard.
Craig Smith, 28, denies inflicting fatal injuries on Teddy Tilston before concocting a "bogus story of a drowning", Liverpool Crown Court heard.
He also denies causing actual bodily harm to Teddy's twin sister.
Both children were found to have suffered unexplained injuries following Teddy's death on 1 March.
Giving evidence, mental health practitioner Lauren Diggory said she had spoken to Mr Smith while he was in custody three days after the toddler's death.
She said: "He said to me that he couldn't be sure that he had not done it but he does not think that he would hurt his boy.
"Craig informed me that he wanted to die so he could not hurt anybody else."
'Hit head on table'
Mr Smith and the twins' mother Ashleigh Willett, 25, deny two counts of cruelty to a person under the age of 16 between July 2016 and March.
The court heard Mr Smith claimed Teddy drowned in the bath at the home the former couple shared in Birkenhead, Wirral.
On the day of Teddy's death, Ms Willett took the boy's twin sister to hospital because Mr Smith said she had banged her head on a table.
He said he had been at home with the twins and found the girl lying on the floor.
He said: "I picked her up and she came round. She threw up."
Mr Smith said he had made food for the children but Teddy had begun to choke before soiling himself and he had taken him upstairs to give him a bath.
While he was upstairs, the twins' older sister started to shout for him and he left Teddy in the bath to go and see to her.
"I thought he'd be all right," Mr Smith said.
The trial continues.