Teddy Tilston murder accused Craig Smith 'devastated'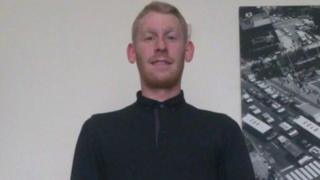 A man accused of murdering his girlfriend's two-year-old son has told a jury he was "devastated" at the toddler's death.
Craig Smith, 28, told Liverpool Crown Court he had left Teddy Tilston, the son of his partner Ashleigh Willett, in the bath for 30 seconds on 1 March.
He said he heard a bang and found the boy lying under the water.
Mr Smith denies murder and causing actual bodily harm to Teddy's twin sister in Birkenhead, Wirral.
Both he and Ms Willett, 25, deny two counts of cruelty to a person under the age of 16.
Giving evidence, Mr Smith said he had taken Teddy out of the bath, laid him on a towel on the landing and then returned to the bathroom to empty the water out of the bath and move toys.
'Just panicking'
He told the jury when he went back to Teddy he tried to stand him up but the youngster fell backwards and hit his head.
Mr Smith said he then took Teddy downstairs, where his condition became worse, and attempted to carry out CPR before ringing an ambulance.
When asked why it had taken so long for him to contact the emergency services, Mr Smith said: "I was just panicking. I was trying to do everything I could."
He told the court he was "devastated" at the toddler's death and felt "confused" when he was arrested.
When asked about bruises on the children's heads and bodies he said he could not remember noticing many of them, while others were due to falls or accidents.
The court heard Teddy also had two injuries to tissue connected to his abdomen - one of which had caused his death.
Icah Peart QC, defending Mr Smith, said: "Did you deliberately cause any of the injuries to Teddy?"
Mr Smith replied: "No."
He also denied causing any injuries to Teddy's twin.
The trial continues.