Shadow minister urges Nissan-style deal for Vauxhall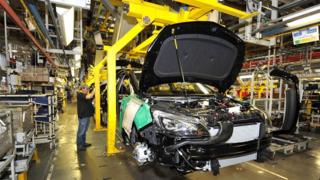 Vauxhall workers in Cheshire should have the same government support for their jobs as Nissan in Sunderland, said the shadow business minister.
Labour MP for Sefton Central Bill Esterson claimed Nissan had benefited from a "backroom deal" to ensure the plant's future after Brexit.
His call follows the news that Vauxhall is cutting about 400 jobs at its Ellesmere Port plant before Christmas.
The goverment said there was "no secret deal" with Nissan.
Nissan said in 2016 it would continue at the UK's biggest car plant in Sunderland with government "support" despite the EU referendum.
Mr Esterson said: "If there's a backroom deal for one car plant in north-east England, there needs to be the same kind of deal for workers at Vauxhall at Ellesmere Port and any other part of the car industry in this country."
'Benchmark plants'
A government spokeswoman said Energy and Business Secretary, Greg Clark, stressed there was no "secret deal with Nissan", in a speech last October.
She added the government secured Nissan's continuing investment by offering reassurances on its continued support for the motor industry and its drive for "free and unencumbered" trade with EU countries in the Brexit talks.
Ellesmere Port, which makes the Astra models, will move staff from two production shifts to one in early 2018.
But Vauxhall's owner, France's PSA Group, denied the job cuts were Brexit-related.
It cited falling sales for the job losses at the Cheshire factory and said manufacturing costs at Ellesmere Port were higher than other "benchmark plants" in the group.
Prime Minister Theresa May sought assurances from PSA that UK plant investment would be maintained when it bought Vauxhall from General Motors earlier this year.
But last month, the car firm's chief executive Carlos Tavares said it was hard to decide upon the group's strategy for Vauxhall given a lack of clarity over the UK's Brexit plans.