Teddy Tilston death: Mother 'could not remember' bruises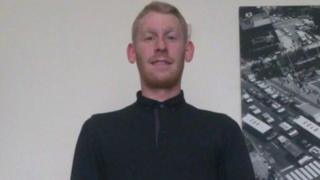 A mother whose boyfriend is accused of murdering her son could not remember seeing many of the bruises found on him and his twin sister, a court has heard.
Ashleigh Willett, 25, cried at Liverpool Crown Court as she was taken through a list of bruises found on two-year-old Teddy Tilston and his sister.
Her partner Craig Smith, 28, denies murder and causing actual bodily harm to Teddy's sister.
He and Ms Willett both deny two counts of cruelty to Teddy and his sister.
Ms Willett denied inflicting any of the injuries found on the two children and said she had not seen Smith inflict them.
'What have you done?'
The court was told that on the day of Teddy's death she had been at work while Mr Smith looked after the twins and their older sister.
She returned to their home in Birkenhead, Wirral to take Teddy's sister to hospital as Mr Smith had called and told her the toddler had banged her head on a table.
Ms Willett was still at Arrowe Park Hospital when she was told that Teddy had also been brought in and had died.
Mr Smith claimed Teddy had drowned in the bath but the court had previously heard that Teddy had two injuries to tissue connected to his abdomen - one of which had caused his death.
An examination of his sister showed she had a fractured wrist which she may have suffered up to six months earlier.
Ms Willett told the court that when she saw Mr Smith she asked him: "What have you done?"
She said: "All I remember is him saying '30 seconds'."
Asked if she was unable to believe that Mr Smith would have injured the children, she said: "Not until I had seen the evidence, no."
Ms Willett also told the court that she had been questioned about Teddy's sister's injuries at the hospital before her son died.
Medical staff had told her the explanation she had given did not match the injuries and suggested she had harmed her daughter.
She said: "I was distraught to think anyone could think that."
The trial continues.