Desert Island Discs: Hillsborough activist Phil Scraton 'had death threats'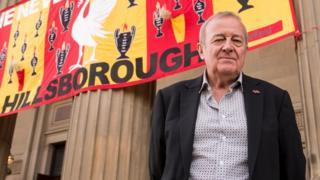 A leading Hillsborough campaigner has told BBC Radio 4's Desert Islands Discs programme he had death threats during his struggle for justice over the 1989 football stadium disaster.
Prof Phil Scraton helped uncover the truth after the deaths of 96 fans following a crush at an FA Cup game.
He said he was also told to "think less" about his work on the disaster by institutions he previously worked for.
In 2016, new inquests into the disaster found the fans were unlawfully killed.
The FA Cup semi-final between Liverpool and Nottingham Forrest, held at Sheffield Wednesday's stadium, was stopped after six minutes following a crush on the terraces.
At the original inquests in 1991, the deaths were ruled accidental but those verdicts were quashed following the 2012 Hillsborough Independent Panel (HIP) report, and new hearings were ordered.
Speaking to presenter Kirsty Young, Prof Scraton, who led the HIP research team, said he "broke down" when jurors concluded - after a 27-year campaign for justice - that Liverpool supporters were not responsible.
Prof Scraton said: "To be honest, in 2000, I felt I had let the families down: I had written two reports, I had written the first edition of [his book] Hillsborough - The Truth and nothing came of it and they had not been vindicated in the public eye."
The criminologist, who works at Queen's University in Belfast, told the programme: "I had death threats to my home phone number, which was ex-directory, and have had a whole series of checks or attempted checks put on by my institutions - not the one I am working with now.
"But previously one famous memo [said] perhaps I should think less about being involved in Hillsborough and more about getting on with the rest of my academic work."
---
Desert Island choices
Christy Moore - On the Bridge
Bruce Springsteen - Chimes of Freedom
Billie Holiday - Strange Fruit
Labi Siffre - (Something Inside) So Strong
Barry Kerr - The Leaving Song
Joan Baez - Biko
Joan Armatrading - Love And Affection
Gerry & The Pacemakers - You'll Never Walk Alone
Luxury - one of his guitars
Book - The Ragged-Trousered Philanthropists by Robert Tressell
You can listen to Phil Scraton's Desert Island Discs on BBC iPlayer Radio
---
Prof Scraton added the initial response to the disaster led to trust in investigations being "damaged" and said the inquiry into the Grenfell Tower fire, which led to the deaths of more than 80 people, should be "fully independent".
"The most important thing about the Hillsborough Independent Panel was the word 'independent' and although we were serviced by the government departments, the panel was in the driving seat."
He chose Gerry & The Pacemakers's version of You'll Never Walk Alone as his favourite song, labelling it a "Merseyside hymn".
The track, from the Rodgers and Hammerstein musical Carousel, has been recorded by a number of artists and has been sung at every Hillsborough memorial service, becoming an anthem for Liverpool FC fans.
Earlier this year, five men, including ex-South Yorkshire Police Ch Insp Sir Norman Bettison, were charged over the Hillsborough disaster and its aftermath.
Former Ch Supt David Duckenfield also faces 95 charges of manslaughter.