Wirral motorists who leave engines idling to face £20 fines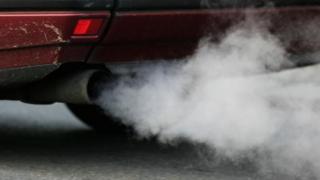 Motorists who leave their engine idling "unnecessarily" could face fines of £20 after a council adopted powers designed to reduce harmful emissions.
Wirral Borough Council has agreed to adopt legislation that allows authorities to issue fixed penalties.
They can be given to drivers who fail to turn off their engines while stationary.
The council said fines would only be issued "if the driver refuses to switch off when requested".
Air quality
Councillors agreed to adopt the optional legislation, introduced in 2002, during a meeting of the authority's environment overview and scrutiny committee on Thursday evening.
It is due to be officially approved at a meeting in February, which means the fines could be introduced by the spring.
The scheme has previously been introduced in several other areas, including central London and Lincolnshire.
Wirral Borough Council said tests on air quality in 2016 showed that, in nearly all cases, levels of harmful emissions in the area were below the national threshold.
However, a report prepared ahead of Thursday's meeting said one taxi rank in Liscard had exceeded national limits.
The council said it followed a complaint from a member of the public about taxis waiting outside the rank with their engines running.
This had led the authority to consider introducing the legislation across the wider region.