Father John Murphy, 93, jailed for sexually abusing boys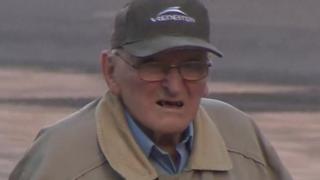 A Roman Catholic priest who admitted sexually abusing four boys over 40 years ago has been jailed.
Father John Murphy, 93, of St George's Court, Maghull, pleaded guilty to 14 counts of indecently assaulting boys at swimming pools, on camping trips and at a church between 1962 and 1974.
He also admitted two counts of inciting boys to engage in sexual activity between 1963 and 1969.
He was sentenced to three years in prison at Liverpool Crown Court.
The court heard that Murphy had ministered to the relatives of the boys, who were aged between 11 and 16 at the time, and was treated with "reverence and respect" by one of his victims' families.
The court heard some of the boys had been unable to talk about the abuse for many years and felt it had blighted their lives.
Murphy's lawyer argued his sentence should be suspended, due to his RAF service in World War Two and his charity work.
Sentencing Murphy, Mr Justice Murray said his "abhorrent" behaviour, his "sexual conduct" and "predatory instincts" meant his victims might never get over what he did.
He also ordered Murphy to sign the sex offenders register for life.
Speaking after the hearing, Stephen Armstrong-Smith - who waived his right to anonymity - said his abuser had not had the nerve to look him in the eye as he gave evidence in court.
He added that the abuse had led him to have problems with alcohol and caused him to try to kill himself on five occasions.
A Roman Catholic Archdiocese of Liverpool spokesman said the church expressed "profound sorrow for the terrible crimes committed".
"The fact these crimes took place in the past, and a guilty plea was entered, in no way lessens the serious impact of them on the victims," he added.