Knowsley Council's decision to sell off parkland called in for review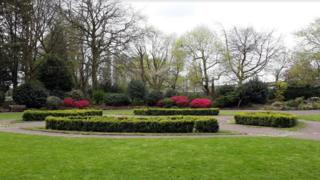 A council decision to sell off 10% of its parkland has been called in for a review.
Knowsley Council in Merseyside said the plans approved last month would protect the remainder of its parks from government funding cuts "forever".
But the decision to sell 17 parks is being investigated by the scrutiny committee, the authority confirmed.
Knowsley Green Party said it was "cautiously optimistic" it would be thrown out.
Prescot town councillor Kai Taylor said the consultation before the park plan's approval was "shambolic" and the council could have reduced park services to make savings until more money became available.
He added Knowsley Green Party said it was "reassured" the scrutiny committee would review the cabinet's decision in the next 14 days and was hopeful it would be revoked.
Review decision 'unclear'
The committee could take 'no action' which means the decision stands, or the matter could be referred back to cabinet for reconsideration.
Why the decision is to be reviewed is unclear but the Labour-led council said it "will not be enacted until the call-in has been resolved".
Funding for Knowsley's green spaces ends in March 2019 with the council saying it can no longer afford the £1.3m annual costs.
After unanimously approving recommendations by the Knowsley Parks and Green Spaces Review Board in November, the authority said it would invest £40m from the sale of land over the next 15 years in a charitable trust to run the borough's 144 parks.
Council leader Andy Moorhead said the scheme would "safeguard" its parks for future generations.