Countess of Chester Hospital starts patient tagging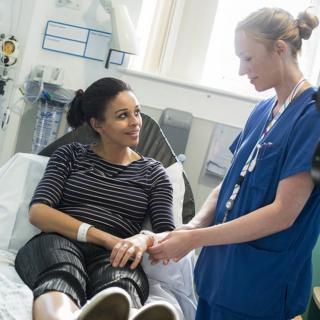 Patients, staff and equipment are being tagged in a drive to speed up access to beds at a major acute hospital.
About 4,000 sensors have been installed at the Countess of Chester Hospital allowing patients to be matched to beds.
A spokeswoman said the system had cut the bed waiting time from four hours to about 150 minutes for patients admitted to A&E.
The system is also operated at Royal Wolverhampton NHS Trust.
It is also used to manage around 50% of acute beds in the USA.
The sensors give staff at the hospital's control centre a real-time picture showing the location of tagged equipment, staff badges and patient wristbands.
Chief executive Tony Chambers said: "Where in the past a series of phone calls might have been needed to source a piece of equipment or get an update on a patient having a scan or procedure, the co-ordination centre can provide this information at a glance, helping more patients get to the right bed, to be seen by the right specialists, first time."
Bosses say the technology is already improving patient flow across the hospital.
Alerts based on the data are sent to hand-held devices and the hospital's bed turnaround team who can clear a bed the moment a patient is discharged.