Arriva North West bus strikes: Unions accept pay deal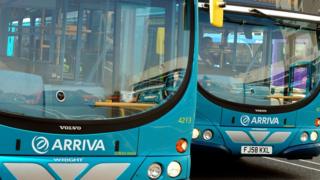 A series of bus strikes planned in the run-up to Christmas have been cancelled after drivers accepted a pay deal.
Members of two unions Unite and GMB voted to accept a pay rise of 3.2% in the first year and 2.6 in the second
More than 2,000 staff at Arriva North West had threatened to walk out for two days this week, and stage four days of strikes from 20 to 23 December.
Arriva bosses said they were "delighted" the latest pay offer had been accepted.
Drivers and engineering staff in the Unite and GMB unions began one day strikes in October after calling the company's original .9% offer "pitiful".
Last month, they rejected a fresh pay offer from Arriva, describing it as "an absolute insult".
Phil Stone, Managing Director of Arriva North West said: "This new agreement means our passengers no longer face the prospect of disruption in the run-up to Christmas."
He added: "This pay offer is a demonstration of our commitment to invest in our workforce."
A Unite spokesman said members voted by 1,286 in favour to 547 against.
He thanked the members of the public and politicians who had supported the strikers saying: "What this demonstrates overwhelmingly is the solidarity of the bus workers."
Arriva North West run services in Greater Manchester, Merseyside, Lancashire and Cheshire.