Adam Ellison death: Family says Christmas will be 'non-event'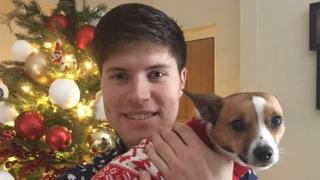 The family of a stabbing victim have said Christmas will be a "non-event" for them following his death.
Trainee supermarket manager Adam Ellison was wounded in the neck after a row with the riders of a motorbike in Prescot, Merseyside on 4 November.
The 29-year-old's mother, Joyce, said: "[Christmas] is never going to be the same... We can't get in the heart of it because Adam's been torn away from us."
A man and a boy were held on suspicion of murder but no-one has been charged.
Mr Ellison was on a night out with three cousins and a friend when he was stabbed in Market Place at about 00:40 GMT.
Merseyside Police have previously said he was attacked with an unknown weapon.
The offenders fled, riding off in the direction of a Tesco store.
Mr Ellison, who was planning to get married, was pronounced dead a short time later in hospital.
His mother said: "This came out of the blue for us… it was such a cowardly act."
Her husband Fred appealed for anyone with information to contact police.
"These people could do it again… and we don't want that.
"This year Christmas will be a non-event for me and his mother but we have to keep strong for the grandchildren and our other two daughters," he added.
"It's going to be difficult without him because he loved Christmas... he was just a family man."
One of those arrested on suspicion of murder, a man in his 20s, has been released pending further inquiries.
The boy has been bailed.