How much do we really value our children?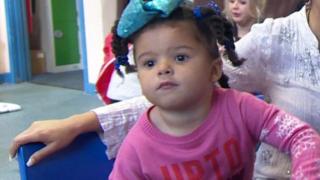 Constructing sentences, using the toilet, holding a pencil - all skills that our children are expected to have when they start school. But the latest figures from the Department of Education suggest a third of youngsters in the North West of England are not hitting those milestones on time.
When I arrived at the Granby Children's Centre in Toxteth, three-year-olds Shiloh and Sara were giddily separating miniature penguins from miniature polar bears and counting them up.
They squealed when they reached the number 10, and poured them back into their makeshift Arctic Ocean.
It's a straightforward game, but council-run schemes like this have helped the City of Liverpool improve "school readiness" by more than 10% in the last four years.
Shiloh's mum Nasra told me: "When you're busy sometimes you just need ideas for learning - and coming away from the house means I'm not distracted."
In Liverpool almost 40% of children are not deemed "school ready", which is higher than the England average of 31%.
And while the situation is getting better in the city, it's not improving as quickly as England as a whole.
Gill Kilpatrick, assistant head at Kingsley School in Toxteth, told me there's no simple explanation.
'Best start in life'
"Almost all parents love their kids and want the best for them," she said. "Some just don't know how to teach through play.
"We come across kids as old as three who can't walk far because they rarely leave their buggy, and some who don't know what to do with a toy.
"Giving them the chance to run and jump, to move things around and explore is vital."
School readiness rates are improving in the North West, rising from 50.3% in 2013 to nearly 68% in 2017.
Some councils, however, say their ability to support families is being compromised by years of budget cuts.
Liverpool City Council has lost more than a third of its budget since 2010.
It's keenly felt in places like Toxteth, where up to three in five children are living in poverty.
"We know that early years funding is essential to help give those kids the best start in life," said local councillor and assistant mayor of Liverpool Nick Small.
"We're proud of ring-fencing Sure Start centres until 2020, but because of cuts we are having to choose between libraries, children's services, adult social care. These are all essential services but we'll have to make tough choices."
Charities are increasingly filling the gap.
I travelled to Chorley in Lancashire to meet five-year-old Jessica, whose speech was very limited until the age of four.
Eighteen months later, she was looking forward to standing up in assembly as "star of the week".
Jessica showed me colour matching games which were introduced to her by the charity Homestart, central Lancashire.
"She is a different child," said her mum Sam. "She actually started talking. That was a big step for us. She can concentrate at school properly. We never thought that would happen. I am so proud."
'Save now, pay later'
Homestart is not immune to financial pressures, though. It relies on donations and lottery funding.
Its staff told me they have noticed that competition for the charity pound is getting fiercer and fundraising is getting harder as families are faced with stagnant wages and inflated shopping bills.
The Department of Education said: "In the North West, the number of children achieving a good level of development has increased year on year, rising from 50.3% in 2013 to nearly 68% in 2017.
"We recognise however that more needs to be done. That's why we're investing £6bn in childcare by 2019-20 to ensure as many children as possible have access to 30 hours' free childcare."
But some councils say that still is not enough.
Mr Small smiled when I suggested that in an age of austerity perhaps money should be taken from early years to be spent elsewhere.
"Yes," he replied. "But those children can grow up to be economically inactive, worse still have mental health problems. It's a save now, pay later approach."
While his "take care of the little people, and the big ones take care of themselves" approach certainly has its merits, how can this be done in an era of ever tighter budgets?
Tough decisions will have to be made.