Teddy Tilston murder: Mum spared jail for child cruelty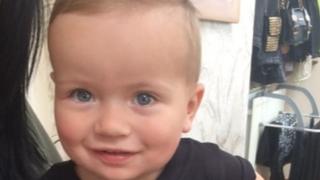 A mother whose two-year-old son was murdered by her partner has been spared jail after being found guilty of child cruelty.
Ashleigh Willett, 25, of Birkenhead, was convicted by jury of failing to seek medical assistance for her son Teddy Tilston and his twin sister.
Craig Smith, 28, was jailed for life in November for murdering Teddy on 1 March and inflicting injuries on his twin.
Willett was sentenced to 12 months in prison, suspended for two years.
During the trial, Liverpool Crown Court heard Willett was not at home when Smith rang paramedics to say he had found the boy unconscious in the bath.
A post-mortem examination found the fatal injury was an internal tear to tissues joining the wall of Teddy's abdomen, likely to have been caused by a kick or a punch.
He also had a bleed on the brain likely to have been caused a week before his death, and bruises to his head, ear, upper lip, neck, jaw, abdomen and back.
'Blinded' by love
On the day of his death the court heard, Willett had returned home from work to take Teddy's twin sister to hospital after Smith called her to say she had knocked herself unconscious running into a table.
Nurses at the hospital also found she had a fractured wrist which she may have suffered up to six months earlier as well as a number of bruises, the jury was told.
Sentencing Willett, who had denied the charges, Judge Mr Justice Garnham said her love for Smith may have "blinded" her to the kind of man he was.
"No sentence I could impose would ever equate with what you have suffered with the loss of Teddy."
John Benson QC, defending, said the circumstances in which Teddy was murdered by the man Willett "had grown to love and to trust was a wholly unexpected, unanticipated and devastating state of affairs".
He added: "This young woman has suffered enough."
Smith, who was also convicted of causing actual bodily harm to Teddy's twin sister, was ordered to serve a minimum of 17 years.