Alfie Evans: Hospital prevents ill boy's transfer to Italy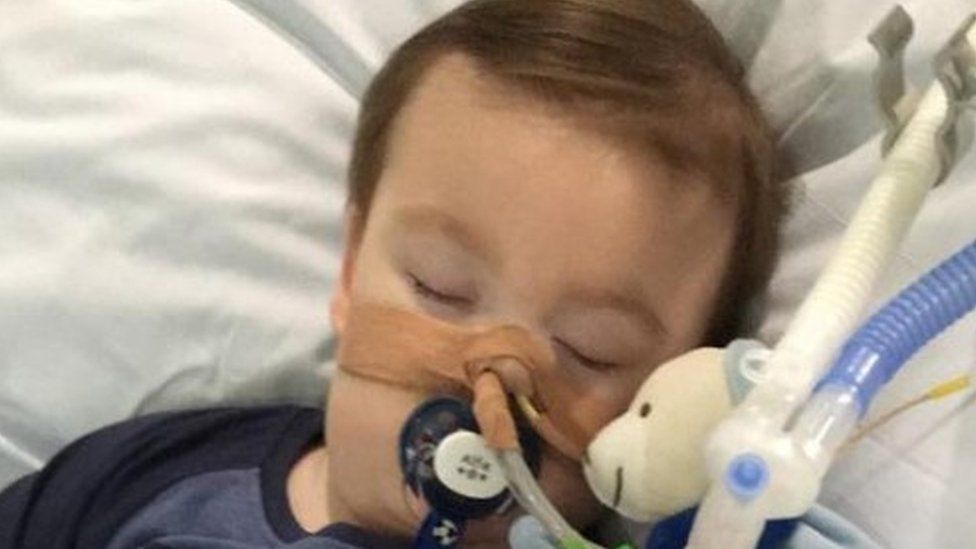 A hospital trust prevented a 19-month-old with a mystery illness being transferred to Italy in a row over life-support treatment, a court heard.
Doctors at Liverpool's Alder Hey Children's Hospital believe it is in Alfie Evans' best interests to stop "mechanical ventilation".
His parents, Tom Evans and Kate James, disagree and want him to be moved to a hospital in Rome.
Mr Justice Hayden said no decisions would be made until the New Year.
The hospital described Alfie as being in a "semi-vegetative state".
The judge is overseeing the case at a public hearing in the Family Division of the High Court in London.
He was told that Alfie suffered from a progressive neurological condition but there was no precise definition of what was wrong with him.
Mr Justice Hayden said: "My starting point is that absolutely everyone in this courtroom has the same objective; everyone wants to do the best for Alfie."
Alfie's parents want him to be removed from Alder Hey and taken to the Bambino Gesu hospital in Rome and have launched an internet petition asking for support.
They said the hospital would give him a tracheotomy and a percutaneous endoscopic gastrostomy (PEG) to allow him to be fed through his stomach.
The family's solicitors sent a letter to Alder Hey stating that Alfie would be removed on Monday and flown to Italy by private air ambulance but the hospital trust refused, the court heard.
It argues that Bambino Gesu has a similar belief that care for Alfie should be palliative.
The judge offered to visit Alfie in hospital. Outside court Mr Evans said he was "overwhelmed" by this offer.
"Alfie will do all he can to show the judge he has got life," he said.
He said Christmas would be "cherished" and "we will treat him like a newborn again."
Barrister Rebecca Foulkes, one of a number of lawyers representing Alfie's parents, said the plan was for the couple and doctors to mediate prior to any trial.
The judge said a full hearing would take place in February.
Related Internet Links
The BBC is not responsible for the content of external sites.