'Radicalised' Ismael Watson jailed for IS Syria terror plan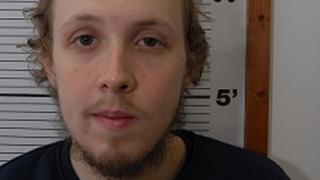 A man who "demonstrated a willingness to kill" for so-called Islamic State (IS) has been jailed after his estranged wife "snitched" on him.
Ismael Watson, originally of Liverpool, was stopped trying to cross the Turkish border into Syria in July 2016.
He denied charges of preparing terrorist acts but refused to attend court and was found guilty in his absence in September at the Old Bailey.
Watson, 27, who held "deep radicalised views" was jailed for five years.
'Increasingly extreme'
The court heard Watson, of no fixed address, came from a non-Muslim family and was originally called Jack Watson.
He moved to Walsall, West Midlands, after taking part in an Islamic marriage in September 2015.
The couple split as his views became increasingly extreme from watching IS videos, jurors heard, and his estranged wife told police of her concerns on 19 January 2016.
That day he was detained and questioned by counter terrorism officers as he boarded a flight to Marrakech from Manchester Airport.
The following day, he took another flight to the Moroccan city from Gatwick Airport and then travelled on to Turkey, the court heard.
He failed to board his return flight back to Manchester on 9 February.
Instead, he sought help to cross the border into Syria via contacts on the internet, not realising he was speaking to two security service agents, the court heard.
In a conversation on 30 March 2016 an officer asked him if he had been "hot" before he left Britain to which Watson replied: "Yes I was hot.
"My wife snitched on me and left. While pregnant told them everything..."
'Extensive radicalised beliefs'
He suggested he could help with film-making, proof-reading and cooking when asked by the agent what jobs he could do in Syria.
In encrypted chats with another officer on the messaging service Telegram, he described how he slicked back his hair to look more Syrian but admitted he could "only change face so much".
Sentencing, Judge Anuja Dhir QC told him he "held deep and extensive radicalised beliefs" demonstrated by the "large volume" of extremist material found on his mobile phone as well as his support for IS and "those involved in jihad".
She added: "You wanted to fight for Islamic State and... demonstrated a willingness to kill for them."
The judge ordered Watson to spend an extra 12 months on extended licence.
His first trial was abandoned and following a two-day retrial, he was found guilty in his absence.