Liverpool Echo Arena car park fire photos released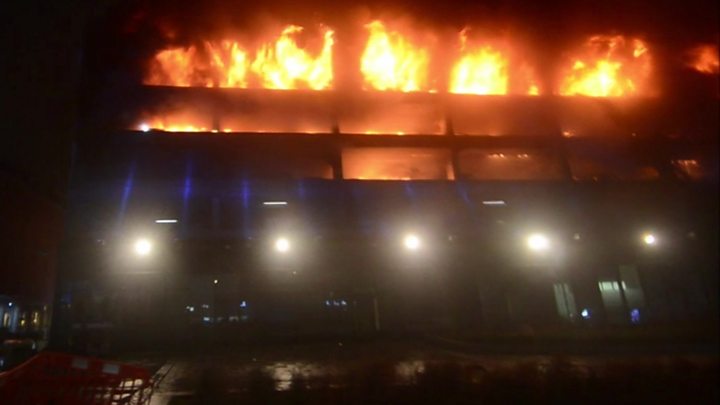 Photos taken in the aftermath of a huge fire which gutted a car park, destroying about 1,300 vehicles, have been released.
The multi-storey in King's Dock, Liverpool, suffered extensive damage when it was engulfed by the 1,000C blaze on Sunday.
Operator ACC Liverpool said the majority of vehicles inside the car park, next to the city's Echo Arena, had been completely destroyed.
Mayor of Liverpool Joe Anderson suggested the blaze could have been contained if recent fire service budget cuts had not been imposed.
He also told the BBC that while the car park was not in danger of collapse, it was unlikely it could be saved.
Pulling it down would be difficult with so many vehicles still inside, Mr Anderson added.
'Ferocious' fire engulfed arena car park
How ex-England footballer and wife fled fire
Daughter-in-law's car wrecked at blaze
The arena had been hosting the Liverpool International Horse Show at the time, and hundreds of people were stranded overnight on New Year's Eve because of the fire.
No-one was seriously injured, Merseyside Fire Service said.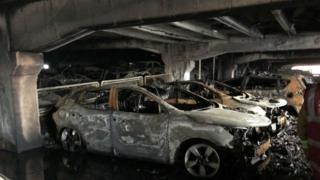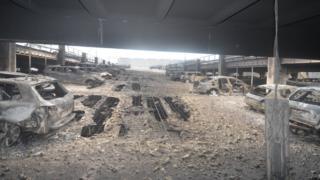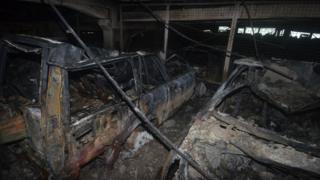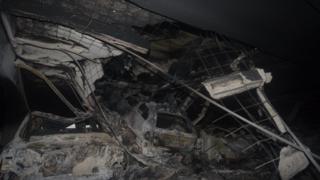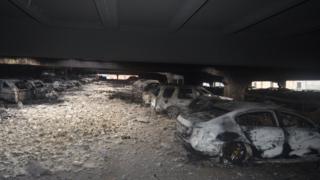 Insurance companies have said they will expedite claims from those who lost vehicles in the blaze.
The Association of British Insurers said drivers with comprehensive and third party insurance would be covered.
Spokesman Malcolm Tarling said insurers did not want to leave customers without transport and would "move very quickly" to make payments.
Admiral Group said it had received a number of claims and expects more as the day progresses.
It said it was hoping to settle claims as quickly as possible, and expected to make some payments to affected customers by the end of the working day.
In total, 12 fire engines were deployed to tackle the blaze, with crews from Greater Manchester and Lancashire assisting.
Mr Anderson tweeted that budget cuts meant fewer fire local crews were available.
In a second message he showed a copy of a letter addressed to Nick Hurd MP, the minister of state for policing and the fire service, in which he asked if existing fire regulations were fit-for-purpose in car parks.
Chief Merseyside Fire and Rescue Service Officer Dan Stephens said tightened budgets meant large fires presented huge challenges.
He said firefighters needed to "call and rely on neighbouring services" to help with such incidents.
The Home Office said Fire and Rescue services had the resources to do their work and Mersyside's service will see an increase in core spending of 0.9% in the coming year.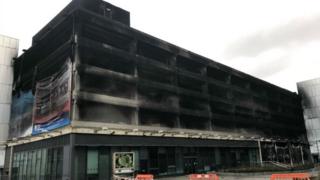 Organisers of the Liverpool International Horse Show said riders were donating money towards a man's cancer treatment abroad to show their gratitude to Merseyside firefighters.
Karen Lounds has set up a crowdfunding appeal for Matt Henderson, 42, whose wife Joanne is a prevention manager at MFRS.
Ms Lounds, who said the NHS in the UK could not offer him further treatment, is trying to raise £200,000. The Just Giving page has raised more than £83,000 so far.
Those with vehicles in the car park have been told to contact their insurance company quoting reference number 650 of 31 December.