Warrington Frankie & Benny's serves girl, 4, alcohol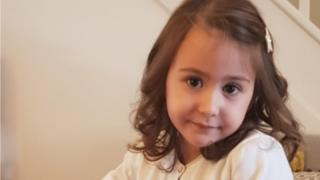 A restaurant has apologised after a four-year-old girl was mistakenly served an alcoholic cocktail.
Mark Thomas, 33, ordered a "fruity softtail" from the children's menu for his daughter Evelyn at Frankie and Benny's in Burtonwood, Warrington.
She was instead served an adult cocktail which contained vodka and peach schnapps.
Evelyn was taken to hospital as she appeared "drunk" and even got a hangover, her father said.
'Human error'
A Frankie and Benny's spokesman said: "We sincerely apologise for this unfortunate incident and any distress caused.
"Our staff acted quickly as soon as they became aware of the situation. This was genuine human error and we will do our utmost to ensure this does not happen again."
Mr Thomas, from Newton-le-Willows, Merseyside, said he did not intend to take legal action against the restaurant but wanted to raise awareness for other parents.
"Evelyn chose the rainbow drink, as she called it, as part of a meal deal pictured on the children's menu," he explained.
After the drink arrived the four-year-old said "yuck" which her parents thought was her just "being fussy".
But the waitress then approached them "close to tears" and told them she had served her an alcoholic cocktail.
'Unsteady on feet'
Mr Thomas said he understood "mistakes happen" and he and Evelyn's mother, Kate Wilson, were "concerned but calm".
He said they then noticed Evelyn had become intoxicated.
"She was very out of character. She wasn't as responsive as she usually is when being spoken to. She was unsteady on her feet and generally being more silly than she usually is," Mr Thomas said.
Evelyn's mother called 111 when they returned home and a GP advised they visit Accident & Emergency.
The hospital confirmed that she was drunk and would have a hangover in the morning.
Mr Thomas said he wanted the restaurant to put safeguarding measures in place to prevent the same thing happening to another child.
"Imagine this was an allergy issue - we'd be looking at something much worse than a hangover here".