Liverpool car park fire: Insurance payouts estimated at £20m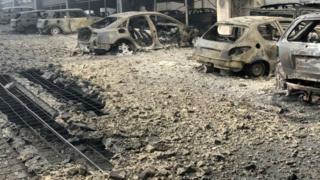 Insurers expect to pay out about £20m to 1,300 motorists whose vehicles were destroyed in a fire, according to the Association of British Insurers (ABI).
The blaze engulfed Liverpool Waterfront multi-storey car park in King's Dock, next to the Arena and Convention Centre (ACC) Liverpool, on Sunday.
The ABI said payments had already been made to some customers for vehicles and belongings lost in the fire.
The city council said a decision on the car park's future could take weeks.
Photos show car park blaze devastation
'Ferocious' fire engulfed arena car park
How ex-England footballer and wife fled fire
Mayor of Liverpool Joe Anderson said while the seven-floor building was not in danger of collapse, it was unlikely it could be saved.
However, Liverpool City Council said the decision could not be made until the site had been deemed safe, which might take weeks.
It also added no-one was permitted to access the building to collect any undamaged belongings until it can ensure the structure is safe.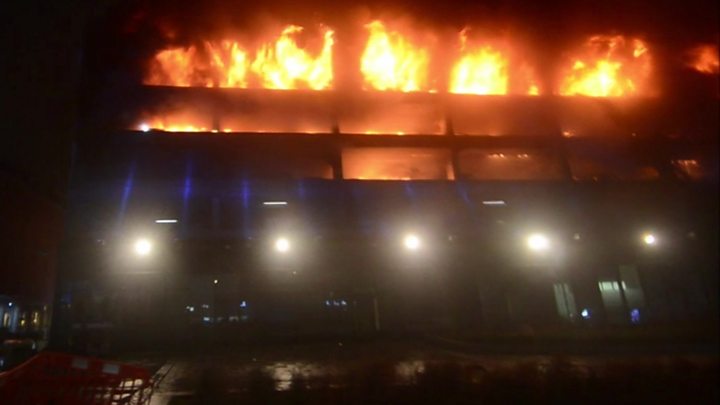 The blaze broke out shortly before 16:40 GMT on New Year's Eve.
The Echo Arena was forced to cancel the last performance of the Liverpool International Horse Show and hundreds of people were left stranded overnight.
No-one was seriously injured in the fire, said Merseyside Fire and Rescue Service.
The ABI said it was "highly unusual" to have so many vehicles destroyed at the same time at one location but insurers were working hard to get customers "back on the road".
Some insurers have taken on extra staff and emergency claim lines were open on New Year's Day to deal with claims, it added.
Rob Cummings from the ABI said: "The insurance industry pays out tens of millions of pounds every day, so while this is a very unusual event it is well within the bounds of what firms expect to deal with."
ACC Liverpool, which runs the car park on behalf of the council, said events programme would continue as planned.
It said it was looking at alternative parking for its forthcoming events.
They include Celebrating Sgt Pepper on 13 January to mark the 10th anniversary of the opening of the arena.