Liverpool Waterfront car park fire: Site's security stepped up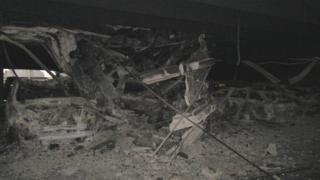 Security has been stepped up at a car park gutted by fire to stop people "risking their lives" trying to access it, the Mayor of Liverpool has said.
The blaze engulfed Liverpool Waterfront car park, at the Arena and Convention Centre (ACC) Liverpool, destroying about 1,300 vehicles on Sunday.
Joe Anderson warned people desperate for belongings from the site to "steer clear" while it is made safe.
He said one car had collapsed through to the floor below after the "inferno".
Liverpool City Council said it had received numerous requests from emotional people who had sentimental belongings in the multi-storey car park.
It said the fabric of the building was compromised and urged the public to "keep a safe distance".
'Completely incinerated'
The authority said it was providing 24-hour security around the site and putting up hoardings for public safety and to protect the structure from strong winds.
On Wednesday, Liverpool City Council said it could take weeks to make the car park safe for a structural engineer to get on site and decide if it could be saved from demolition.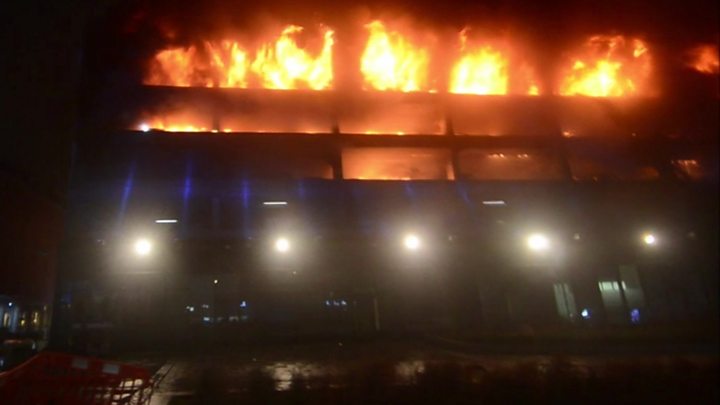 Mr Anderson said: "It's not safe yet even to enter the building and we cannot have anyone risking their lives trying to do so, especially with the strong winds we're currently experiencing.
"We will do everything we can to try and recover any vehicles and possessions that are still viable, but everyone needs to understand that the car park was an inferno and the vast majority of cars were completely incinerated."
He added public safety was the "number one concern".
ACC Liverpool, which runs the car park on behalf of the council, said its events programme would continue as planned and it was making contingency plans for parking.
The Association of British Insurers said insurance companies expected to pay out about £20m to motorists whose vehicles were destroyed in the fire.