Cassie Hayes: Tui Southport travel agent bled to death after throat was cut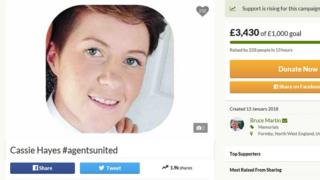 A travel agent who died after being attacked at her work had her throat cut, a post-mortem test has found.
Cassie Hayes, 28, died of her injuries in hospital after the incident at the TUI store in Chapel Street, Southport, on Saturday afternoon.
Merseyside Police said the post-mortem results "revealed that the cause of death was shock and haemorrhaging from a wound to the throat".
A man, aged 30, from St Helens has been arrested on suspicion of murder.
Tributes have been paid to Ms Hayes on social media sites.
Her former partner, Leah McDonald, wrote on Facebook she was "heartbroken and numb" at the death of Ms Hayes, who was originally from Alnwick, Northumberland.
"There are no words to describe the pain I have woken with this morning! I just want to rip my heart out from my chest I cannot bare it," she said.
"I was blessed to have such an amazing girl for 11 years of her life when she moved here from a little town called Alnwick.
"She left her mam and her sister to come here to be with me. I promised you both from that day and even yesterday that I would always protect and look after her.
"I am so, so sorry to them and all her family and friends up there my heart breaks for you and her little Tui work mates old and new I'm thinking of you all."
She added: "We had our fall outs, our ups and downs but I can tell you now despite all that we absolutely loved each other and out of all the people in the world I could not of picked a better mammy for our child."
One former colleague of the store's assistant manager wrote on Facebook: "So shocked to here the sad news about Cassie. I've not worked for Tui for a while but the time I did and worked with Cassie she was such a lovely girl. RIP Cassie. Thinking of all the Southport girls and Cassie's family".
Another tweeted: "I was lucky enough to of been her manager at Thomson Southport. She made me laugh, cry and enjoy going to work every day and be in her company."
People have also laid floral tributes outside the shop where she was killed.
On Saturday, Merseyside Police described the attack as "domestic related".
An online appeal set up in her memory has raised nearly £4,000.