HMP Liverpool: Britain's 'worst prison' cuts healthcare budget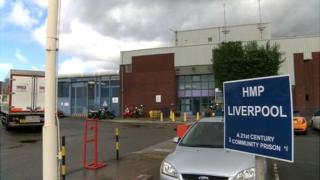 Healthcare budgets have been cut at a prison described by inspectors as "Britain's worst".
A damning report on HMP Liverpool on Friday said it was "squalid".
The BBC has now learnt Lancashire Care NHS Trust is leaving its contract with the jail in March citing the £6.7m it is paid to provide healthcare as "unsustainable".
NHS England has offered new providers a five-year contact at £6.5m per annum - £200K less than Lancashire Care.
It has said when a new provider is found, it can bid for additional money to develop the service.
Liverpool jail's sick inmates 'at risk'
What went wrong at 'Britain's worst jail'?
Liverpool jail: The worst conditions ever seen, says report
Since 2011, there have been at least 17 suicides at the Liverpool prison, one of the highest figures in England.
Healthcare staff have told the BBC that in recent months, pressures in the unit have contributed to at least three deaths, and the inspection report said staff shortages had had a negative impact on all aspects of health services.
Lancashire Care NHS Trust told NHS England, which commissions services, it had exhausted all efforts to recruit new staff and the price it was paid made the service "financially unsustainable".
NHS England has advertised a five-year contact at £6.5m per annum but so far no providers have been forthcoming.
The BBC understands NHS England will now speak to other trusts to persuade one to take over the healthcare services at HMP Liverpool.