'Ticking time bomb' cannabis farm found in Liverpool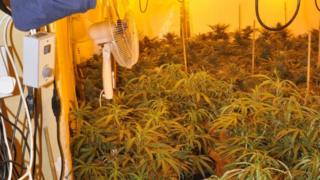 A cannabis farm described as a "ticking time bomb" due to the way it was set up to grow plants with a street value of £1.3m has been found.
Police raided a terraced house in Sandfield Road, Liverpool, on Saturday where they discovered the Class B drug.
Growing equipment and 348 plants were seized and officers found the electric supply had been used illegally.
Sgt Gary Sorrell said: "The property was a ticking time bomb in terms of electrics." No arrests have been made.
"The growing equipment and wiring were some of the worst I've ever seen, which is a huge fire risk for neighbouring properties.
"It really was lucky we were called when we were," Sgt Sorrell said.
Police were called to the house in the Gateacre area after reports a large number of plants were being grown.