Alfie Evans: Seriously ill boy's scans show further decline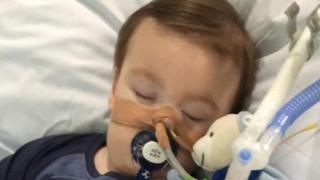 New MRI scans of a seriously ill toddler ordered by a High Court judge show further decline of his brain, a hearing to decide his fate has heard.
Tom Evans and Kate James, from Bootle, Merseyside, want to take their son Alfie abroad for treatment.
But doctors at Alder Hey Children's Hospital have told the High Court continuing treatment would be "futile".
A consultant treating him, who cannot be named due to a legal order, said the boy was "unaware and in a deep coma".
Alfie is in a "semi-vegetative state" and has a degenerative neurological condition that has not been precisely diagnosed.
Mr Justice Anthony Hayden, sitting at Liverpool Civil and Family Court, ordered the fresh scans on Alfie's brain as it was "vital" he had the most up-to-date information.
The court heard the results showed further deterioration of the boy's brain.
The previous set of scans, taken in August, showed Alfie's brain had reduced by more than 70% of its normal size.
Six months on, the latest scans taken on Friday showed the disease has now destroyed even more of his brain.
A consultant treating Alfie told the court he believes the changes show the boy was "unaware, in a deep coma, not able to sense, touch, to see or to hear".
He said more brain matter had disappeared and the spaces inside Alfie's skull filled with fluid had increased.
Mr Evans wants his son to be treated at Rome's Bambino Gesu Paediatric Hospital.
Mr Justice Hayden asked the consultant if the Italian approach to the "preservation of life" was different to the "more secular" UK, asking the witness: "Why are they wrong?"
'Explored every avenue'
The doctor replied: "In my opinion it does not serve the purpose. It is not in Alfie's best interests.
"Alfie is alive because we are interfering. It does not help. It does not cure. It does not make better."
He added there was "no hope for recovery... there's no hope even for stabilisation".
Alfie's father questioned whether "every avenue" had been explored for his son.
The doctor replied: "It's my belief we have done everything possible."
Mr Evans claimed clinicians repeatedly "pressured" him and Ms James to end their son's life support before waiting for a full diagnosis at the beginning of 2017, asking if that was "professional".
But the doctor told the court he had no recollection of such conversations and Mr Justice Hayden told the hearing he was "interested" in "February 2018".
Outside court, Mr Evans said he was "still not giving up hope".
The hearing continues.