Alfie Evans: Dad wants son to die at home if appeal fails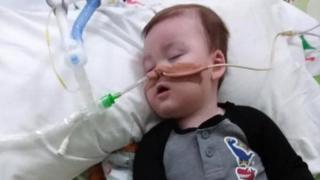 A seriously ill toddler's father has told a court he wants his son to die at home if the boy's life support is withdrawn.
Tom Evans, of Bootle, Merseyside, wants to take son Alfie abroad for treatment.
A High Court judge sitting in Liverpool said the "absolute consensus of doctors" was that his condition was terminal and he could die in transit.
Mr Evans and Alfie's mother say they had not been made aware of this risk and still want him to go abroad.
Twenty-month-old Alfie is in a "semi-vegetative state" and has an undiagnosed degenerative neurological condition.
The medical team treating him at Alder Hey Children's Hospital in Liverpool have told the High Court further treatment would be "inhumane" and "futile" and want to end his life support.
In an emotional exchange with Mr Justice Anthony Hayden at Liverpool Civil and Family Court, Mr Evans said if his son is to die he would rather it were at home where he could be comforted and his life could "finish where it began".
Mr Evans, 21, who is representing himself, and Alfie's mother Kate James want to take their son to the Vatican-linked Bambino Gesu Paediatric Hospital in Rome for a diagnosis and treatment which may prolong his life.
Mr Justice Hayden put it to Mr Evans that moving Alfie was a real risk and he could die in an ambulance, corridor or an aeroplane.
Mr Evans replied they had not been made aware of the risk of dying in transit.
Earlier a physiotherapist, who cannot be named due to a legal order, told the court removing mucus from Alfie's lungs could bring him out in seizures.
However, Mr Evans said gentle touching is possible and does not cause seizures.
The hearing continues.