Joseph McKeever death: Men guilty of 'extreme torture' killing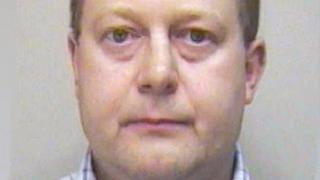 Three men have been convicted of killing a man who was held captive and subjected to "extreme torture" before his body was found in a burnt-out car.
Joseph McKeever, 54, was found dead in Liverpool in June 2017 after his ordeal which one killer compared to violence seen in TV drug dealing dramas.
The extent of his injuries are unknown.
Jamie Grimes was found guilty of murder and Darren Colecozy, 23, and Karl Kelly, 32, were convicted of manslaughter at Liverpool Crown Court.
Colecozy, of no fixed address, and Kelly, of Snaefell Avenue, Liverpool, were also found guilty of false imprisonment.
Dylan Owen, 23, of Paul McCartney Way, was found guilty of assisting an offender but cleared of false imprisonment, murder and manslaughter.
Mr McKeever was last seen on 14 June at about 17:50 BST with Grimes, of Breckside Park, Owen and two other men at MGM motors in Brecon Street.
Grimes worked at the site and had a container within the grounds which Mr McKeever was seen to walk towards. It was the last known sighting of him.
The court was told a four-hour assault took place in the container and later on Kelly arrived and collected Colecozy.
Mr McKeever was driven to a flat rented by Colecozy and further assaults took place during the course of the night.
At some point during the assaults, Mr McKeever died, prosecutors said.
During this time Colecozy texted a friend and said what was happening was "mad" and compared it to dramas showing the violence associated with drug dealing, the court heard.
On 15 June at about 17:30 Mr McKeever's body was taken out of the flat and into the car where his remains were found in Whitehaven Road, Everton.
Rachael Barber, from the Crown Prosecution Service, said the level of violence was "truly sickening".
"The evidence revealed that Mr McKeever had been subject to extreme torture before he died.
"We will never really know the true extent of his injuries as his body was so badly burnt when it was eventually recovered."
They will be sentenced on Thursday.