Zika virus: Work begins on vaccine for pregnant women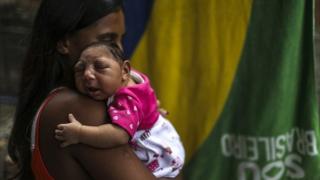 Scientists have begun work on a Zika vaccine to help protect pregnant woman.
The virus has been linked to severe birth defects and was declared as a global medical emergency by the World Health Organisation (WHO) in 2016.
The Universities of Liverpool and Manchester and Public Health England will work on the £4.7m project to find a "ready-to-use vaccine".
Project leader Professor Neil French said it "would dramatically reduce the threat that we face from Zika".
A spokeswoman for the University of Liverpool said pregnant women were the group most at risk from the virus, but no approved vaccine is available for them.
The mosquito-borne infection has been linked to cases of microcephaly, where babies are born with abnormally small heads and restricted brain development.
Few people die from Zika and only one in five people infected is thought to develop symptoms. These can include fever, a rash and joint pain.
In November 2016, the WHO declared it was no longer being treated as an emergency, but acknowledged the virus was here to stay.
The project aims to confirm the safety of two new vaccines derived from a pre-existing smallpox vaccine.
Prof French said while the current Zika outbreak had slowed, "there remains a significant risk of foetal abnormality... and the changing climate raises the possibility of major epidemics occurring in previously unaffected parts of the world".
Public and Global Health Minister Steve Brine said the trial had "enormous potential to help millions of people".
"Disease transcends lines on a map, so by funding this research we are ensuring British expertise will save and improve lives at home and abroad," he added.