Liverpool's £200m New Chinatown scheme set to resume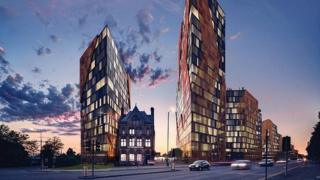 A failed £200m regeneration scheme in Liverpool city centre is being revived after it was sold to a consortium of investors.
Great George Street Developments hopes to resume work on the New Chinatown project this summer after it bought the company that owns the leasehold.
Plans for 790 homes and a hotel near the Anglican Cathedral stalled when the original backer hit financial problems.
Liverpool City Council which owns the land is in talks on the site's future.
A spokesman said the authority also planned to discuss "outstanding legal issues concerning the leases".
Last year, the council took action against Chinatown Development Company (CDC) over two staged payments totalling £950,000 that were not paid.
A few days later, its parent company North Point Global said it intended to "dispose of all of its property interests, return monies to clients and cease operations".
'Legacy issues'
Great George Street Developments said it had acquired CDC and plans to resume work on the flagship development.
Development director Neal Hunter said he anticipates than any "legacy issues" would be "resolved swiftly".
He added under the new plans the scheme would "better align with the city's strategic aspirations and better connect and relate to the Baltic Quarter and the existing Chinatown".
Work is expected to begin on the first phase comprising 117 apartments this summer.
The second and third phase of the project is expected to be revised in consultation with Liverpool City Council.
The council said it had met with representatives to "ascertain the consortium's intentions and ambitions for the site" and to discuss the outstanding legal issues.
"We are now undertaking a full review of the consortium and further meetings are to be held to discuss the next steps and how investors are to be kept informed of developments."