Liverpool Prison workers fired for raising safety fears
By Danny Shaw
Home affairs correspondent, BBC News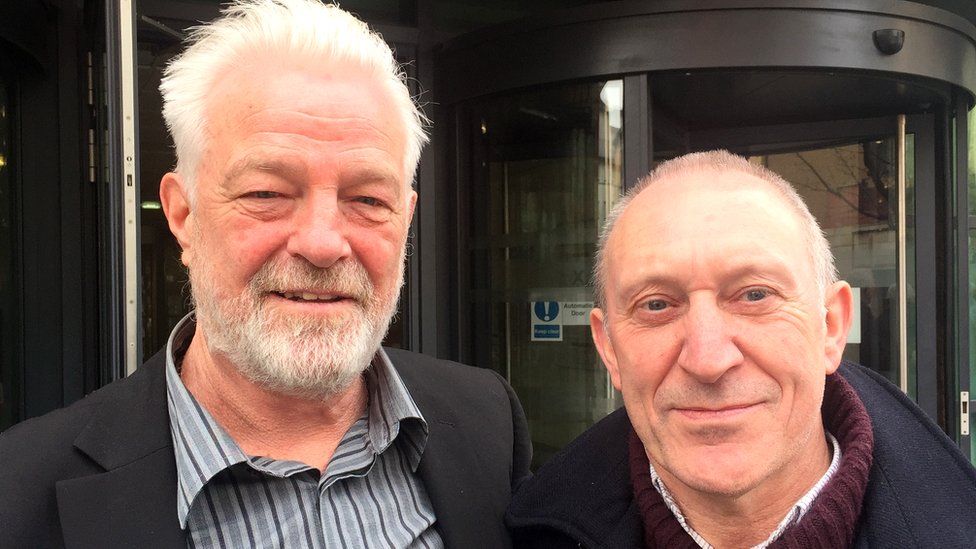 John Bromilow and Harry Wildman, who worked at the jail for more than 20 years, were fired by Amey who had the contract for prison repairs.
Amey claimed they brought the firm into disrepute by discussing new working practices with the prison governor.
But an employment tribunal ruled that the men were unfairly dismissed.
The tribunal, in Liverpool on Friday, said Mr Bromilow, 66, and Mr Wildman, 64, had acted in good faith.
Employment judge Jonathan Holbrook, who headed the three-person panel, added he thought it was "extraordinary" that Amey had not taken into account the men's 45 years of collective service and their unblemished disciplinary record.
Mr Wildman, an electrician, said the ruling was a "vindication" of what he had been fighting for since his dismissal in November 2016.
"The whole thing has been a nightmare," he told BBC Radio 4's File on 4.
The men had complained about changes Amey introduced to the way they carried out repair work, painting jobs and other maintenance tasks in the prison.
The company had taken over maintenance at Liverpool Prison in June 2015 as part of a government contract to provide facilities management in 60 jails.
Under the changes, staff were required to carry out most jobs alone, rather than in pairs, as had been the practice for many years.
The two men thought it was a safety risk because tools and equipment could be snatched by prisoners.
"I see it as a bag of tools, somebody else will see it as a bag of weapons," said Mr Bromilow, a painter-decorator.
After unsuccessfully trying to reverse the measures through an internal grievance procedure, the two colleagues met the prison governor to inform him they were calling in the Health and Safety Executive.
However, after two meetings with the governor, Amey suspended, then sacked, the men.
Statements from Amey officials, submitted to the tribunal, claimed Mr Bromilow and Mr Wildman had been "intent on making things difficult" for the company, alleging their actions had "the potential to be incredibly damaging" to its reputation.
Jon Heath, the solicitor who represented the pair, said it was a "scandalous" case.
"To dismiss them for having explicitly raised those concerns is one of the more startling examples of an unfair dismissal that I have come across," he said.
Responding to the tribunal decision, Amey said: "Nothing is more important than the safety of our employees, and we have a robust whistleblowing policy in place which provides a number of channels for our employees to escalate concerns about their health and safety.
"We encourage all employees to follow these protocols so we can address their concerns in the most thorough and efficient way possible."
The tribunal will consider if the men can return to their jobs and the compensation they are entitled to at a hearing in June.
For more on this story listen to File on 4, on BBC Radio 4, on 13 March at 20:00 GMT and 18 March 18 at 17:00, or the BBC iPlayer.
Related Internet Links
The BBC is not responsible for the content of external sites.