Liverpool slavery raid police supporting 41 'vulnerable' people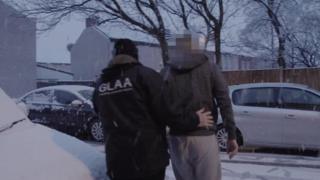 Forty-one "extremely vulnerable" people are being supported by authorities after raids in Liverpool targeting a suspected modern slavery ring.
A 28-year-old man and his 32-year-old wife were arrested with a 34-year-old man on suspicion of offences including forced labour and trafficking.
They were released under investigation after the dawn raids on 8 March.
The Gangmasters and Labour Abuse Authority (GLAA) said the victims are thought to be Romanian migrants.
At one house a cannabis farm was discovered while large amounts of cash were also recovered, it said.
GLAA senior investigating officer Martin Plimmer said the victims were all forced to work at food processing and packaging plants in Greater Manchester.
"They were not aware of their rights, they were being told where to live, they were being told where to be, they were being transported," he said.
"At every stage there was somebody controlling their movements. This was being done by fear. The whole purpose of this gang was to exploit these people."
'Place of safety'
The GLAA and Merseyside Police said they were acting on intelligence which alleges migrant workers from Romania are being trafficked into the UK and forced to work.
Det Ch Insp Cheryl Rhodes, of Merseyside Police, said: "Offenders involved in human trafficking prey on extremely vulnerable people, often people who have come into the UK, do not know the language and are desperate to provide for themselves and their families.
"The offenders callously exploit that desperation for their own ends, and we are determined to put a stop to that."
John Morris, British Red Cross director of independent living and emergency response in the North of England, said the charity was "on hand to provide practical and emotional support to anyone evacuated as a result of this operation, in a place of safety".