Hillsborough disaster: No charges against two officers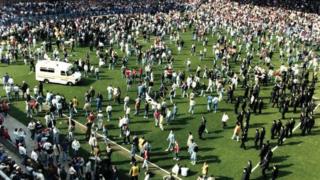 Two police officers who investigated the aftermath of the Hillsborough disaster will not face charges.
The Crown Prosecution Service (CPS) said the West Midlands Police officers' actions were a "cause for concern" but there was "insufficient evidence" to prove criminal offences took place.
Three former South Yorkshire police officers under review by the IOPC will not be referred to the CPS.
Ninety-six Liverpool fans died as a result of the crush on 15 April 1989.
It was alleged that a misleading or incomplete file was submitted to the Director of Public Prosecutions in 1990.
The CPS said in a statement: "There is evidence that some aspects of the investigation were not carried out to a high standard."
However, it said there was a "lack of evidence showing any deliberate plan or action by the suspects to hinder it".
'Disappointing'
There was difficulty in attributing responsibility for all of the failings to the suspects, the CPS added.
It has informed the families of Hillsborough victims in writing.
Sue Hemming, head of special crime and counter terrorism at the CPS, wrote in a letter that although the decision would be "disappointing... we have spent a significant amount of time reviewing and considering the evidence that was submitted to us".
She added: "As you know, the standard of evidence required for any criminal prosecution is high."
The Independent Office for Police Conduct (IOPC), previously known as the Independent Police Complaints Commission, said it would not be considering any evidence relating to three former officers from South Yorkshire Police (SYP) over allegations of a "cover-up" by the force.
It said although there was "some indication" two of the three former officers may have committed a criminal offence, it was "not deemed appropriate" to refer the cases to the CPS.
The CPS had already rejected bringing criminal charges based on substantial evidence reviewed in 2016.
"No further evidence or legal matters have since been identified that could realistically alter that view," the IOPC said.
It said a referral could potentially delay the trials of the six people, including match commander and former Ch Supt David Duckenfield, already facing charges related to the disaster and its aftermath.
The 96 Liverpool fans died as a result of the crush at Sheffield Wednesday's Hillsborough stadium on 15 April 1989 before the FA Cup semi-final against Nottingham Forest.