Liverpool runner beats Forrest Gump's fictional running 'record'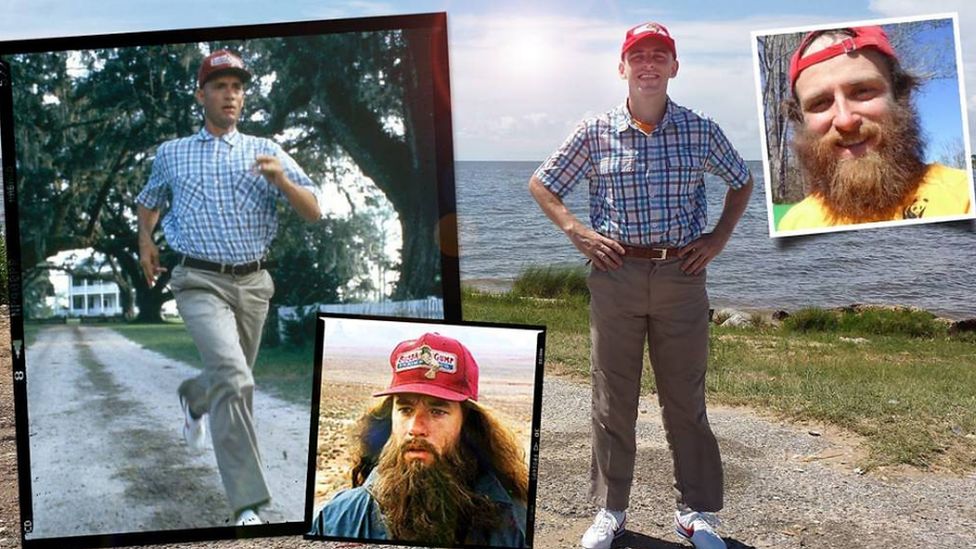 A vet from Liverpool who is following in the footsteps of Forrest Gump has beaten the character's epic running record.
It is more than the distance of 15,248 miles Forrest was supposed to have run in the 1994 Tom Hanks film.
The challenge took Mr Pope coast-to-coast of the United States and back again an amazing four times.
He quit his job so he could complete the trek in four separate stages.
But he aims to complete his final 200-mile leg on 29 April - a week after running the London Marathon.
He told the BBC: "My plan is to finish in Monument Valley, where Forrest finished. Maybe one day I'll complete the fifth crossing, for fun."
He hopes Nadine and their new baby will be there to watch him end his challenge.
Mr Pope began his run in Forrest's famous plaid shirt and chinos but has since ditched that look for a bushy beard and a 'Bubba-Gump' hat - much like Forrest's transformation.
Averaging 40 miles a day, he has battled through blistering heat, torrential rain and heavy snow, raising $28,000 (about £19,000) for charity.
He has also been updating social media by posting photos of his visits to landmarks from the movie.
The BBC is not responsible for the content of external sites.
Mr Pope became the Australian Marathon Champion in 2015 and also won the Liverpool Rock 'n' Roll Marathon in 2015 and 2016, where he ran a personal best of 2:27:13.
But he said this was by far his biggest challenge as there were almost 100 marathons between the west and east coasts of the United States.
"You didn't see Forrest doing a Rocky montage in the scenes building up to his run - he just put on his shoes and went. I figured I'd do the same," he added.
Related Internet Links
The BBC is not responsible for the content of external sites.