Cat killer smothered kitten and hanged body outside ex's flat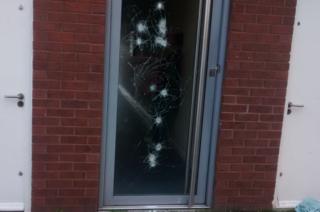 A man who attacked his kitten before smothering it with a duvet and then stringing up its remains outside his ex-girlfriend's flat has been jailed.
A post-mortem examination revealed 11-week-old Niko had suffered a broken eye socket and a large bruise on its skull.
Kieran Haynes, from Devon Gardens, Birkenhead admitted causing unnecessary suffering to an animal when he appeared at Wirral Magistrates' Court.
The 30-year-old was jailed for 16 weeks and banned from keeping pets for life.
During an interview with an RSPCA inspector, Haynes admitted hitting Niko with the back of his hand after being scratched by the kitten in November.
"He said afterwards Niko's face became swollen and he became wobbly," said Insp Anthony Joynes.
Haynes said he then went out for seven hours.
'Completely defenceless'
Insp Joynes said: "When he returned, Niko was in the same spot and lying in his own faeces... he was clearly severely injured with a broken eye socket and suffering from swelling to the brain.
"Haynes said as he approached to check on him and attempt to stroke him the kitten attacked him.
"At this point he covered Niko with a duvet and held it there until the kitten stopped moving.
"Afterwards, Haynes took Niko's dead body and hanged him from a piece of rope outside a block of flats where his ex-partner lived."
The inspector said he had been left shocked by the attack.
"Nothing can fully prepare you for dealing with cases such as this one... the purposeful infliction of immense pain and suffering by way of physical violence on a completely defenceless and vulnerable 11-week-old kitten."