Halton NHS bosses defend £53m Runcorn health campus plan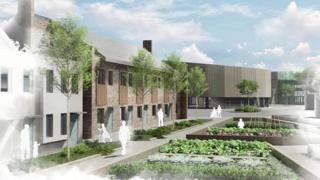 Hospital bosses have defended proposals to build a £53m "state of the art" health and wellbeing campus in one of the most deprived areas of England.
The plans would see land around Halton General Hospital transformed into a "healthy new town" site.
A public consultation meeting in Runcorn on Tuesday also heard it would include plans for a gym, swimming pool, new homes, nursery and a care home.
But some local residents believe the money could be put to better use.
Mel Pickup, chief executive of Halton and Warrington Hospitals, said the campus's purpose was to provide an integrated model of health and social care focusing on patients living longer, healthier, and more independent lives.
She was interrupted repeatedly by local residents, though, who questioned why the money could not be spent instead on providing an A&E department or stroke ward in Halton.
'Urgent care'
One resident called the proposed campus "a glorified walk-in centre."
And Mark Adkins, from Runcorn, said: "It doesn't matter how good the facilities are in specific areas - if you don't get to critical care in the time required, you will die."
Halton hospital delivers services including planned care, urgent care and mental health services, but the nearest critical care units are up to 10 miles away in Warrington and Whiston.
All services at Runcorn hospital would be transferred to the Health and Wellbeing campus but no new medical services have been proposed.
Ms Pickup said the new campus, which would also contain a rehabilitation unit, allotment space, walk paths and community centres, will free beds on acute wards by providing out-of-hospital alternatives.
Last week, Halton hospital was unsuccessful in a bid for £40m worth of funding from NHS England.
It plans to re-submit the bid in August, but is considering a "cocktail of different options" for how they will fund the campus - estimated to be about £53m.