Alfie Evans: Claims protest makes hospital visits 'scary'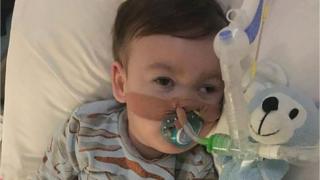 A relative of a patient at a hospital treating a terminally ill toddler has described visiting her loved one as "intimidating and scary".
The woman claimed she had been verbally abused by supporters of Alfie Evans' family at Alder Hey in Liverpool and called a protest held there "a circus".
The hospital, which won a legal battle to withdraw Alfie's life support, has urged protesters to show respect.
Protest group Alfie's Army has been contacted for comment.
Alder Hey said noise from hundreds of protesters supporting the 23-month-old, including the sounding of car horns, was affecting its patients and staff.
'Burn it down'
The woman, who did not want to be named, said people on her relative's ward were being made anxious by the presence of police and additional security.
Visiting was "intimidating and horrendous" and she had even heard chants of "burn it down" from protesters which was "taking it too far", she told BBC Radio Merseyside.
She continued: "Alder Hey is an absolutely amazing hospital and the staff are second to none; this should not be happening outside a children's hospital.
"Children are passing away there, parents are being given devastating news every day; imagine how it feels when you leave that hospital and you are presented with that scene."
She said she respects people's right to protest peacefully but described Sunday's demonstration as "out of control" and akin to a "circus" with "a bouncy castle, people drinking alcohol, [and] children running everywhere".
She said: "Take it to a neutral ground so there is no impact upon other children, families or staff and they would gain a lot more respect for the cause."
Alfie's Army - as supporters call themselves - has tweeted on its official Twitter account that protests are peaceful and has asked demonstrators to be "respectful".
It has previously tweeted people attending events must be mindful that "there are other sick children in the hospital".
Most of the protesters have now moved from outside the hospital's main entrance to Springfield Park, a short distance away.
However, Alder Hey said in a statement: "Noise from recent protests has unfortunately affected our patients so we would ask that noise levels outside the hospital are kept to a minimum and, for example, car horns are not sounded.
"Loud noise affects sleep and raises anxiety levels for our patients especially when recovering from procedures, so please bear them in mind."
The hospital said it had also put additional security measures in place but said it "remains fully operational" with A&E open for emergency care.
The protests have divided opinion as some people on social media have used the hashtag #ImWithAlderHey to raise concerns about the protests and show support for the hospital staff.
Andrew Barlow tweeted: "Despite the bad press it is currently receiving regarding Alfie Evans, @AlderHey hospital and its staff are the reason our daughter is alive today." #ImWithAlderHey
Victoria Georgina tweeted: "Alder Hey are an incredible hospital and as much as i feel for Alfie's parents #imwithalderhey this has turned into something it shouldn't have and the disregard shown to other children, families and the staff who work so hard for our children everyday, is shocking."
Police said the "large" and "peaceful" protest in Liverpool on Thursday night "did cause significant traffic disruption and inconvenience for other people trying to access the hospital".
Pope Francis called for all sides to work together for what is best for Alfie during his address in Rome on Sunday, according to the Liverpool Echo and he has also tweeted his support for the boy.