Southport: Sefton Council's road resurfacing 'epic fail'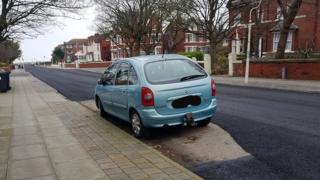 Resurfacing roadworks which skirted around a parked car have been described as an "epic fail".
A woman in Southport, Merseyside, said that Albany Road was completely resurfaced apart from a section directly outside her house.
The resident, who wished to remain anonymous, said she returned from work to discover a "ridiculous" response.
Sefton Council said residents were warned "well in advance" of the resurfacing works.
The woman thinks the car belongs to a neighbour and said it was "the council's epic fail".
You may also be interested in:
She told the Local Democracy Reporting Service: "It looks ridiculous, it's just so obvious because of how different the shades are."
The woman added: "I don't understand why they couldn't have just knocked on or waited. The road looks so stupid now.
"I tweeted the council almost a week ago but nobody has responded."
A Sefton Council spokesman said: "Letters were sent to residents well in advance of the resurfacing works, while signs were also erected to alert motorists to avoid parking on the highway.
"Unfortunately, despite their best efforts, contractors were unable to locate the owner of a vehicle which had been left on the highway and had to work around the car.
"To wait until the vehicle was removed at a later date would have caused unwanted and avoidable disruption to drivers who had kindly taken note of the works schedule."