Everton v Lyon: Three charged over Goodison disturbance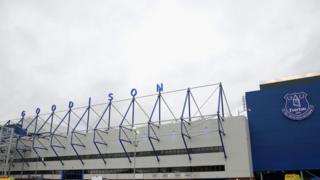 Three men have been charged with battery after a disturbance during Everton's home game against Lyon.
It follows an incident at the front of the Lower Gwladys Street end at Goodison Park during the Europa League match.
Michael Darren Fitzpatrick, 30, of Derby Square, Prescot, Callum McCready, 19, of Four Acre Lane, Clock Face, and Daniel John Helbert, 30, of Ashbourne Crescent, Roby, have all been charged.
They are due to appear in court in May.
The French side beat Everton 2-1 in the Europa League Group E match in October.
The game saw a melee break out among fans and players, with Lyon's goalkeeper allegedly being confronted by one supporter.