Alfie Evans: World's reaction to sick toddler's case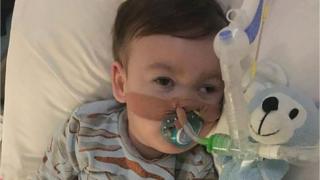 The case of terminally ill Alfie Evans, who has been at the centre of a legal fight over his life support, has captured the world's attention.
World leaders and the Pope lent support to the 23-month-old's parents, who have spent six months locked in a court battle over their son's care.
Tom Evans, 21, and Kate James, 20, have lost all legal challenges against doctors at Alder Hey Children's Hospital switching off his ventilator.
Indeed, it was a tweet from the leader of the Catholic Church earlier this month which saw the plight of the toddler, from Bootle, Merseyside, gain global momentum.
It led to Mr Evans flying to the Vatican, where he begged the pontiff "to save our son" and grant Alfie asylum.
The Italian government also added its support, and granted Alfie Italian citizenship on Monday with hopes he would be granted an "immediate transfer" to Bambino Gesu Hospital in Rome.
But an appeal against the High Court's ruling that he must stay at Alder Hey failed, and his life support was switched off hours later.
The following day, European Parliament president Antonio Tajani said he believed it "would be right to give another chance to Alfie".
He said: "Perhaps if they could have tried, without therapeutic rage, to be able to save him in Italy in the Bambino Gesu hospital, for example.
"I want to give a word of hope also for this little European citizen whose life I believe must be in every way protected."
The Pope then extended his support from praying for the toddler to appealing Alfie be allowed to get further treatment.
He tweeted he "renewed my appeal that the suffering of his parents may be heard and that their desire to seek new forms of treatment may be granted".
Polish president Andrzej Duda also reacted to the case.
He tweeted: "Alfie Evans must be saved! His brave little body has proved again that the miracle of life can be stronger than death. Perhaps all that's needed is some good will on the part of decision makers. Alfie, we pray for you and your recovery!"
The case has also grabbed headlines throughout the world.
In the US, right-wing commentators have used the case the criticise state-funded health care
Conservative blogger Daniel Greenfield wrote: "Free health care for your children means that they are the property of the state."
Former governor of Arkansas Mick Huckabee has appeared on Fox News but he seemed to blame the British government for the High Court's ruling on the case.
He said it was "hard for British government to justify".
"The British government has said no - we're not going to let him leave we they're going to go ahead and kill him. I just find this chilling."
"They want to save their son. They are willing to take him to Italy and Italy is willing to take him.
"Why don't they let these parents at least have a shot? They have nothing to lose. If he doesn't make it, well at least they've done everything they can do."
A gathering outside the British Embassy in Washington DC is being held on Thursday, organised by Rev Patrick Mahoney, director of the Christian Defense Coalition.
He claimed 11,000 people joined him in saying prayers for Alfie.
The British Government does not intervene in cases relating to medical ethics and no politician has entered the debate.
Several UK judges have ruled that Alder Hey Hospital is acting in Alfie's best interests.
Medical staff at the hospital have consistently argued that scans show "catastrophic degradation of his brain tissue" and that further treatment is not only "futile" but also "unkind and inhumane".