Daily Express paper apologises for Liverpool FC 'slur'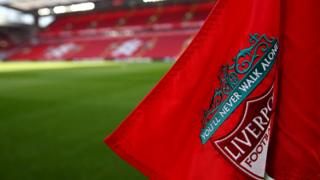 The Daily Express has apologised for publishing an "ill-informed" comment piece which appeared to blame Liverpool for a violent clash outside its ground.
The article, which has since been deleted, said the club must take "serious action" after a fan was badly hurt outside Anfield on Tuesday.
It prompted an angry response, with the Liverpool Echo branding the piece "vile, presumptuous and repugnant".
The Express said the author of the article had been suspended.
In an apology posted on its website, the paper said the piece, written by a freelance journalist, was "ill-informed and wrong".
"It did not, in any way, reflect the views of the Express. It should never have been written and was very quickly removed," the paper said.
The author suggested trouble seemed to "follow [Liverpool] around like bees round a honey pot?"
He also asked if the "latest generation" of the club's supporters "could well add another chapter to England's footballing book of condolences".
The article was strongly criticised by Mayor of Liverpool Joe Anderson who tweeted: "I demand to know how you could ever believe it was acceptable to publish [his] piece about Liverpool fans, two years to the day after the Hillsborough verdict."
Mr Anderson has since said the paper's editor had apologised to him for the "appalling slur".
Ninety-six football fans who died as a result of a crush in the 1989 Hillsborough disaster were unlawfully killed, inquests which concluded in 2016 found.
Witnesses reported seeing a large group of Roma fans descend on the road where Liverpool fans had gathered before the Champions League semi-final first leg.
Sean Cox, a 53-year-old from Dunboyne in the Irish Republic, remains in hospital in a critical condition after suffering serious head injuries outside The Albert pub next to the stadium.
Two Italian men, aged 20 and 29, have been charged in connection with the incident.