MP urges help for tower block leaseholders facing cladding bill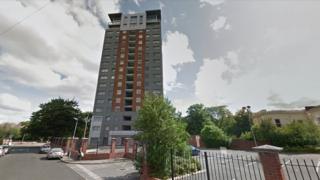 Ministers have been urged to help residents of a Liverpool tower block who may be facing bills of £18,000 to replace unsafe cladding.
Labour MP Louise Ellman said Heysmoor Heights' leaseholders must not be "abandoned" over fire safety work.
There was legal uncertainty over who should fund the work, she said.
Management company RMG said the block's freeholder had paid for the work in advance and it was hoped costs would be covered by building warranty insurance.
Ms Ellman's statement follows Prime Minister Theresa May's pledge to fund the removal of dangerous cladding from tower blocks owned by councils and housing associations.
The Liverpool Riverside MP called for the government to help those living in the 16-storey privately-owned flats, which had been found to have dangerous ACM cladding, saying it was "a question of justice" they do not foot the bill.
She said despite the insurance claim being pursued over the original build guarantee taken out in 2008, residents could not wait for the results of "long and potentially protracted" negotiations with insurers to be resolved.
Ms Ellman said the owner of 63 of the flats, Grainger plc, has funded the work but the current freeholder is Abacus Land 4 Ltd - an offshore company based in Guernsey - and the costs may still fall on leaseholders.
Housing Minister Jake Berry would not be drawn into the specifics of the case but said ministerial colleagues would press the agent for Heysmoor Heights to reveal who its owners were and continue "to urge those responsible to follow the lead of the social sector and not to attempt to pass the costs on to residents".
A spokesman from RMG said work to complete fire safety measure was due to be completed at the end of May at a cost of £1.3m.
He said it was hoped the money would be covered by the insurance claim, adding that the freeholder had already funded the project to minimise costs and address the risk as soon as possible.