Northern: Train company 'should lose franchise', say mayors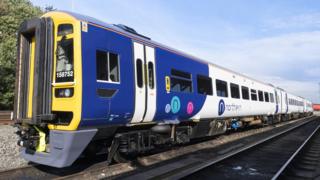 Rail company Northern should lose its franchise if improvements are not made, the mayors of Greater Manchester and the Liverpool City Region have said.
A phone call between Andy Burnham, Steve Rotheram and Transport Secretary Chris Grayling took place to discuss disruption and mass cancellations.
The mayors said Northern needs to publish an action plan so it can be held to account by passengers.
A spokesman for the government said the disruption has been "unacceptable".
Northern has been approached for comment.
The mayors said the chaos on the network has been "so extreme" that Northern has "lost the benefit of the doubt".
"They simply cannot be permitted to keep inflicting a miserable sub-standard service on the hundreds of thousands of passengers across our region who have had to endure dire train travel for far too long," they said.
An investigation into Northern's "unacceptably poor" service was called for by Greater Manchester mayor Mr Burnham.
Mr Rotheram, Liverpool City Region mayor, wrote to Northern about "serious shortcomings" in its operations.
During the conversation, the two mayors are understood to have made a number of calls for action.
They asked for:
A shared analysis of the causes of the problem, developed by Northern, Transport for the North and the Department for Transport
The publication of an action plan by Northern with "clear dates and milestones" for improvements so the company can be held to account
A deadline for settling the backlog of compensation claims for delayed trains, and broader compensation for regular users paid for by fines
They said that if an agreed action plan is not followed by Northern then "a process be initiated to remove Arriva Rail North's franchise to operate".
'Considerable distance'
The mayors said there is "considerable distance" between the government's view of the situation and their own.
Government ministers' talk of teething problems suggests these are only recent problems linked to the new timetable, the mayors said.
They said the "endemic" staffing shortage needs to be addressed.
However, they added that all parties agree the priority is getting services back on track.
Mr Grayling told the House of Commons that the issues with Northern were a "Network Rail failure."
"This problem has arisen for two prime reasons: the problems with electrification Network Rail is carrying out on the line through Bolton and the failure of Network Rail to deliver a finalised timetable in time," he said.
A spokesman for the Department for Transport said improving Northern services is Mr Grayling's "top priority".