Champions League final: Liverpool fans' anger after Kiev flights cancelled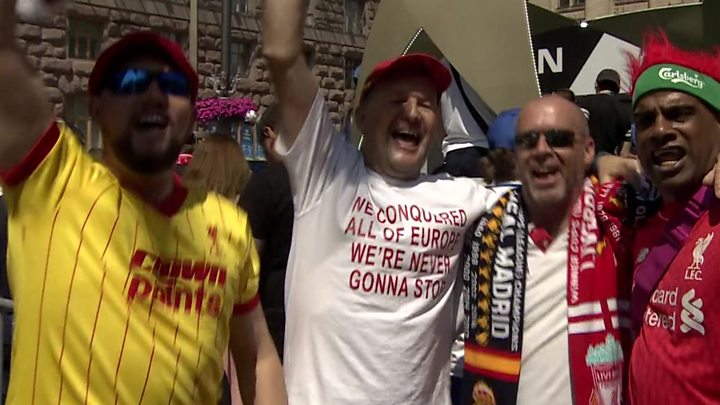 Liverpool fans have spoken of their anger after their flights to the Champions League final were cancelled.
Operator Worldchoice Sports said it could not secure landing slots at Kiev's Boryspil Airport for three planes but it said it had secured an extra last-minute three-night trip.
Disappointed supporters had paid up to £2,000 to get to Ukraine.
Fan Chris Bolland said he was "disgusted" over the fiasco which means he now cannot get to the match.
Liverpool play Real Madrid on Saturday in the Ukrainian capital in their first Champions League final in 11 years.
The Merseyside club said up to 1,000 fans had been affected by the flight problems, and it had offered a full refund on tickets for fans whose flights had been cancelled.
Chris Bolland, who has supported Liverpool for 50 years, paid £2,000 to Worldchoice for a flight and ticket.
But his flight has been cancelled and he will now have to watch the game at home on the TV.
He told the BBC: "I am gutted, to say the least. I am absolutely disgusted and there is nothing I can do about it.
"I will now have to watch it with my dear wife - but that's not a problem as she's a big Liverpool fan as well."
Ironically Mr Bolland had been in Poland, which shares a border with Ukraine, on a business trip and to came home to catch his flight.
The owner of Worldchoice Sports said he was "devastated" to have to cancel flights but vowed to keep trying to help stranded supporters.
Shay Soni blamed the airport authorities in Ukraine for the mess and confirmed all fans will be fully refunded.
"The past 24 hours have been an absolute nightmare. It really has been a very difficult time," he said.
"The issue started last Friday when the slot co-ordinators at Kiev airport were unable to give us slots for our aircraft."
He said they had gone through "almost every avenue" without success until the mayor of Liverpool, Joe Anderson, stepped in and one flight was reinstated.
Mr Soni said the company would keep working to get the remaining flights reinstated but added: "I'm not very hopeful.
"I'm a Liverpool fan. I am really, really upset and sad... We have never had an issue like this before."
Asif Badat, 32, from Leeds, is also stranded despite having match tickets.
He said: "We were being given assurances about our tickets and then suddenly the flights were cancelled.
"I'm now considering flying to Romania and driving 10 hours from there."
Rob Andrews had his Liverpool-Kiev flight cancelled but has now managed to secure a flight from Dublin.
He will fly back to Dublin via Istanbul.
He told the BBC: "I don't even want to work out how much it's costing me. We got very little information from Worldchoice."
On Thursday, Mr Anderson said he had negotiated an agreement with Kiev mayor Vitali Klitschko - a former world heavyweight boxing champion - in a round of phone calls.
In a series of tweets on Friday, Liverpool's mayor said he was chasing an "urgent update" from Worldchoice on "why we have a shambles regarding fans flights, after the concessions made by airport yesterday. Will keep searching for solutions until none left".
He revealed he and Mayor Klitschko were exploring the possibility of another airport nearby being used.
The decision by Uefa - the governing body of European football - to stage its most prestigious club match in Kiev has been heavily criticised.
Liverpool FC's head of club and supporter liaison Tony Barrett said: "The decision to hold the final at a location which is so difficult and so extraordinarily expensive to get to is one that needs explaining by those who made it.
"To every Liverpool fan who is having a nightmare, and I use the word nightmare deliberately, arranging travel to Kiev I can only apologise.
"What should be one of the most exciting times of your lives is currently anything but and that, to me, is inexcusable."
Fans who have secured a means of making the final have complained of the complicated route they are having to take.
Ivan Mulla, 46, from Liverpool, said: "It's been a nightmare, I'm flying from Leeds to Rome then from Rome to Kiev.
"The return is from Kiev to Ankara and then Ankara to Antalya then Antalya to Leeds."
Liverpool FC said on its website: "The decision to offer refunds has been made in response to the cancellation of two flights chartered by Widnes-based travel company World Choice Sport, leaving around 650 supporters without a flight to Kiev for the Champions League final."
Separately, a number of Liverpool supporters already in Kiev were caught up in trouble when they were seemingly attacked in a restaurant on Thursday night.
Merseyside Police said two Liverpool fans suffered minor cuts and two Ukrainian men had been arrested on suspicion of assault.