Liverpool Mayor Joe Anderson in Labour resignations row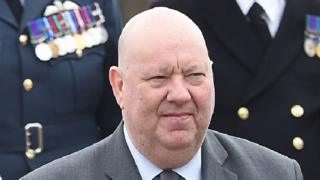 Liverpool Mayor Joe Anderson has defended his leadership after recent resignations by Labour colleagues.
Two party members quit their council cabinet posts in protest against his sacking of an assistant mayor following losses in this month's local elections.
Liverpool's Liberal Democrats are calling for the role of city mayor to be scrapped following the 2017 election of Steve Rotheram as regional mayor.
Mr Anderson said he had "a job to do... and I'll get on with it".
He has headed the city's Labour group since 2003 and has led Liverpool City Council since 2010, with two years left of his current term.
The Liverpool Labour row comes after internal disagreements over rough sleeping strategies, the financial deal for Everton's new waterfront stadium, the future of the council's heritage assets and failed developments.
On 18 May, after Labour lost three council seats in Liverpool in the local election, Mr Anderson sacked Councillor Nick Small - who ran the party's election campaign in the city - from his post as assistant mayor.
Former deputy mayor Ann O'Byrne and former council cabinet member Steve Munby resigned later that day in protest against the mayor's decision.
In a tweet, Ms O'Byrne, who remains as deputy leader of Liverpool's Labour group, said it was "because I feel that the Mayor isn't listening to the Labour Group, wider party and, most importantly, to the people of Liverpool".
---
Analysis: Claire Hamilton, BBC Merseyside political reporter
The split in Liverpool Labour is uncomfortable for Mr Anderson.
Three of his most senior cabinet members departing and previously loyal colleagues accusing him of not listening has not gone down well.
He is fortunate to have a wealth of experience to draw on to replace those who have left his top team.
His supporters say those who quit cabinet "got the mood music wrong" but, with some in his own party questioning the need for a city mayor and a metro mayor, the next two years of his second term in office won't be dull.
---
Mr Anderson told BBC Sunday Politics North West: "I'm proud of my record."
He denied claims he was "not listening", saying they originated from "a couple" of people.
The party has 76 of 90 seats in Liverpool, far ahead of their closest opponents, the Liberal Democrats, who have seven.
"I've got a job to do - the people have elected me to do that and I'll get on with it," said Mr Anderson.
'Core city'
Liverpool's Liberal Democrats have requested a special council meeting to start the process of abolishing the position of Liverpool mayor.
Their leader Richard Kemp said it would save costs, adding: "As our resolution makes clear, this is not just about Joe Anderson but about the position.
"Since the election of Steve Rotheram as the regional mayor, any justification for also having a city mayor is massively reduced."
Mr Anderson said the current system was not much different to London or Greater Manchester, which have elected mayors Sadiq Khan and Andy Burnham respectively working with borough mayors.
"I'm the mayor of one of the core cities in the UK and we have a powerful voice," he added.