Child-carrying Everton fan jailed for Lyon players attack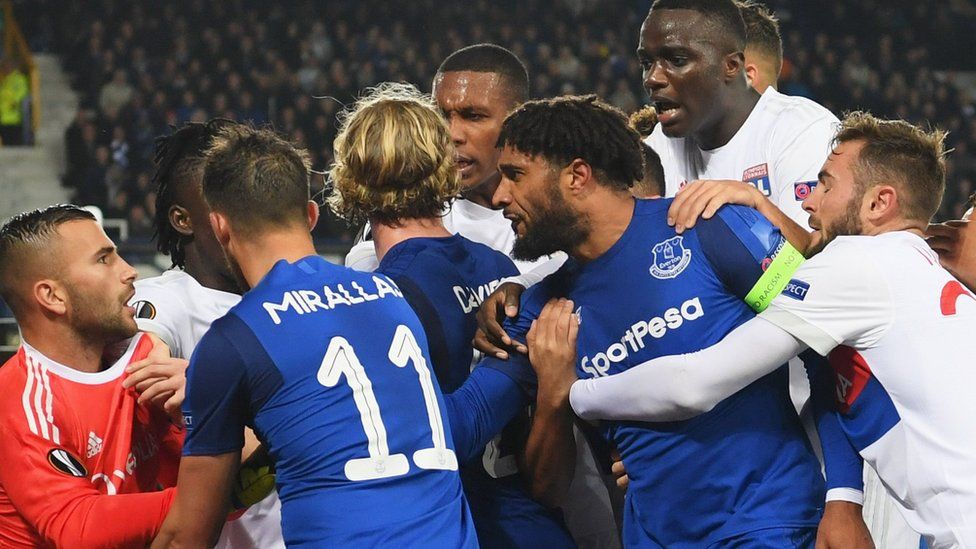 An Everton fan has been jailed for eight weeks after attacking opposition players while holding his young child.
Michael Fitzpatrick, 30, of Derby Square, Prescot, had earlier pleaded guilty to assault at the Europa Cup tie with Lyon at Goodison Park in October.
The game saw a fight break out among fans and players during the second half of the first leg with the home side trailing visitors Lyon.
Fitzpatrick was jailed at the Community Justice Centre in Bootle.
Merseyside Police said Fitzpatrick was seen holding his three-year-old son in one arm and using his other to grapple or punch opposition players.
Footage of the attack went viral as Fitzpatrick was seen carrying the child among other fans pulling and throwing punches as players tangled near the touchline.
He later said he felt "ashamed" by his behaviour and feared his ex would ban access to their children.
Everton captain Ashley Williams's push on Lyon goalkeeper Anthony Lopes had ignited a heated confrontation between several players which continued off the pitch.
Fitzpatrick had admitted assault when he appeared at court on 23 May, police said.
Callum McCready, 19, of St Helens, was charged with assault and cautioned in connection with the attack.
The French side beat Everton 2-1.
Related Internet Links
The BBC is not responsible for the content of external sites.