Ian Robertson told boss he missed work as he 'murdered someone'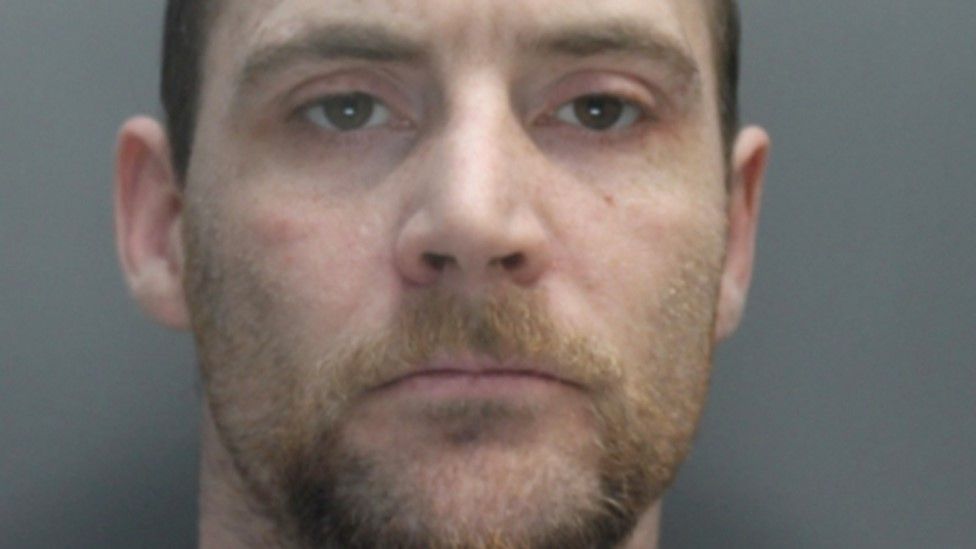 A man who told his boss he had not gone into work because he had murdered someone has been jailed for life.
Ian Robertson, 33, stabbed Robert Sempey, 38, in the throat and body after a row at Robertson's Merseyside home in January, police said.
Liverpool Crown Court heard Robertson recorded his victim on his mobile phone as he lay dying and could be heard taunting him. He later hid the body in his garden in Haydock.
He must serve at least 21 years.
Robertson and his partner, Kirsty Jervis, 31, moved the body into a garden in Beilby Road and covered it with two doors, the Crown Prosecution Service (CPS) said.
Jervis was jailed for two years and eight months for assisting an offender.
Both defendants, of Beilby Road, Haydock, pleaded guilty at an earlier hearing to the offences.
Police were alerted on 21 January by Robertson's employer, Anthony Millward, who received a number of WhatsApp messages from him.
Mr Millward messaged: "Is everything OK mate? Alex said that you wasn't in work today because of a family emergency?"
To which Robertson replied: "If you want the truth mate, I murdered someone in my house last night so now need to fix it."
Robertson went on to tell him that Mr Sempey was in the garden and he even went on to send him a photograph of his victim's body.
In a victim impact statement read to the court, his victim's sister Michelle wrote: "He was a funny, loving father, brother and uncle.
"I had to explain to my four children that their wonderful, loving uncle had been murdered and was never coming home.
"I then had to sit his daughter down and tell her that her dad had gone to Heaven."
Mersey-Cheshire CPS senior prosecutor Sarah Gray said the reason why Robertson killed Mr Sempey has not been established.
She added that it was "one of the most disturbing cases I have ever had to deal with".
Related Internet Links
The BBC is not responsible for the content of external sites.