Helen McCourt's mother angry at killer's prison day trips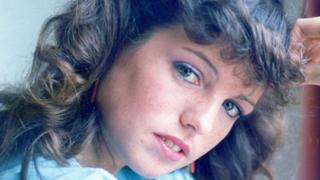 The mother of a murder victim has been told her daughter's killer is to be released from prison for unaccompanied day trips, despite refusing to reveal where he hid his victim's body.
Marie McCourt fears the trips are a sign Ian Simms will soon be released.
She has led a campaign to introduce "Helen's Law", which would block parole for killers who conceal the whereabouts of their victims' bodies.
Helen McCourt, of Billinge, Merseyside, was 22 when she was killed in 1988.
Simms was jailed for life with a minimum tariff of 16 years, but has always maintained his innocence.
Mrs McCourt said a parole board officer contacted her to inform her a prison governor intended to allow Simms to visit a town centre without the supervision of officers.
The killer had already been allowed to make similar trips while accompanied by prison officers, she was told.
"If he is released without telling us where Helen's body is, it will be the final insult," the 74-year-old said.
Mrs McCourt also said she felt threatened by the former pub landlord, ever since an ambiguous letter he wrote to her in 1991 promised "justice" once he was released.
Mrs McCourt's daughter was murdered after failing to come home from work.
Simms, whose pub was just yards from her home, quickly became a suspect and he was convicted after an earring belonging to her was found in the boot of his mud-covered car.
Mrs McCourt has recently called on the government to speed up the parliamentary process for the Unlawful Killing (Recovery of Remains) Bill 2016-17.
The bill was introduced by MP for St Helens North Conor McGinn in October 2016 but has yet to progress beyond a first reading.
Prisons minister Rory Stewart backed the "no body, no parole" legislation in the House of Commons on 5 June and said he was "disgusted" by the "sadism" shown by killers like Simms.
It was Mr Stewart's comments that prompted Mrs McCourt to contact the parole board, who told her a prison governor was planning the solo excursions.
"I'm worried he could take the chance to abscond and go underground if he knows this legislation is coming," she said.
"We'll lose any chance to have a funeral for Helen if he is released before this law is introduced."
A Ministry of Justice spokesman said: "We're legally obliged to ensure life sentence prisoners have the chance to show they're safe for release."