Alfie Evans: Alder Hey spent more than £145K on legal fees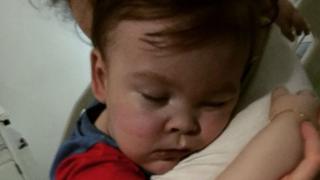 An NHS hospital spent more than £145,000 on a legal battle to withdraw life support from toddler Alfie Evans.
The seriously ill 23-month-old died nearly a week after his life support was turned off at Alder Hey Children's Hospital in Liverpool in April.
His parents lost numerous legal challenges against a High Court ruling that ventilation could be withdrawn.
The hospital would not comment on the legal bill, which Alfie's aunt Sarah Evans said she was "disgusted" by.
The legal campaign, launched by Alfie's parents Tom Evans and Kate James, attracted widespread attention including support from Pope Francis and saw them clash with doctors over the child's treatment.
His parents lost all legal challenges against the hospital after the High Court made the ruling to withdraw ventilation in February.
Doctors said continuing treatment was "not in Alfie's best interests" but his parents believed he responded to them.
Writing on Alfie's Army Facebook page, Ms Evans also said she was "furious" and "angry" that so much "taxpayers' money" had been spent.
The legal bill spent by the hospital on lawyers is likely to be much higher than the £145,354.77.
That figure was revealed by Alder Hey Children's NHS Foundation after a freedom of information request by a member of the public.
But it was submitted on 23 March and Alfie died in hospital on 28 April.
Alfie, from Bootle, Merseyside, suffered from a degenerative brain condition and had been in a semi-vegetative state for more than a year.